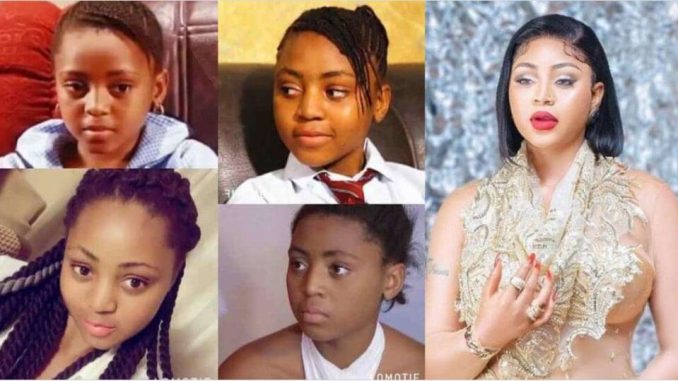 Nollywood actress, businesswoman and Billionaire Wife, Regina Daniels, is celebrating her 22nd birthday today, October 10, 2022.
In wake of her 22nd birthday celebration, Freedomnaija brings you 10 things you need to know about the forever 16 Nollywood actress and beauty queen, Regina Daniels.
1. Regina Daniels was born on October 10, 2000. She is from Delta State, Nigeria. She is the daughter of veteran actress and movie producer Rita Daniels.
2. She started acting at a very young age of seven with the help of her mother Rita Daniels, who is also an actress and got support from her siblings.
Her debut movie, titled "Marriage of Sorrows," earned her N10,000. She later rose to stardom after being featured in the Nollywood film "Miracle Child" in 2010.
3. She attended Hollywood International Schools and continued her education at Igbinedion University, where she studied Mass Communication.
4. Regina Daniels is the sixth wife of Nigerian billionaire and politician, Ned Nwoko. She tied the knot with the business tycoon on April 27, 2019.
5. Regina Daniels is one of the youngest mothers in the entertainment space as she is also a proud mother to two children with her billionaire husband.
She gave birth to her first child on June 29, 2020, one year after her marriage, and welcomed her second child with the billionaire on June 29, 2022, on the occasion of their first child's second birthday.
6. The age gap between Regina Daniels and Ned Nwoko is 39 years. While Ned Nwoko is 61 years old, Regina Daniels is 22.
Owing to the fact that Ned Nwoko is old enough to be Regina's grandfather she has been criticized in the past for accepting Ned Nwoko as her husband.
7. Regina Daniels is a businesswoman with two well-known businesses. She launched her very own fashion brand, "Regina Daniels Fashion," in July 2021.
Ahead of her 22nd birthday, she launched a clothing brand "Regae", which is aimed at creating clothing for both men and women.
8. The brand influencer is one of the most followed Nigerian actresses on the photo and video sharing app, Instagram. She has over 12.4 million Instagram followers.
9. The mother of two is a lover of flashy cars and has so many expensive and luxurious whips in her garage. She is the owner of expensive cars, including a Rolls Royce, Mercedes Benz G-Wargon, Lamborghini and Ferarri, among others.
10. Regina Daniels' religion is Islam. She became a Muslim after getting married to billionaire Ned Nwoko in 2019. She keeps her religious life private despite maintaining a strong presence on social media sites.