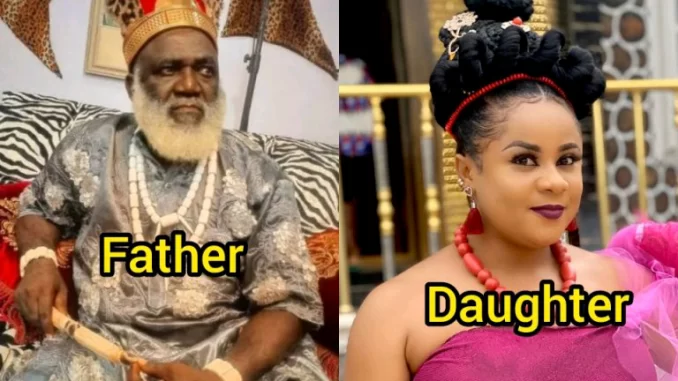 Uju Okoli is a fast-rising Nollywood actress, a model, a producer, and a Television personality. Ujo Okoli is gradually making waves in the movie industry with her skills and creativity.
It seems Ujo Okoli is gradually taking the place of some actresses who have retired from the screens. Uju Okoli was born on the 26th of April, 1983, and was raised in Imo State. Much is not known about Uju Okoli as she is highly secretive about her personal life.
See the photos of Uju and her father below…..
he father of the actress Uju Okoli, Mr. Obi Okoli is also a popular Nollywood actor and also one of the pioneers of the Nigerian movie industry.
Who is Uju Okoli?
Uju Okoli is one of the famous Nollywood actresses in Nigeria. She is the daughter of the veteran actor and director Obi Okoli, who is known for directing movies such as No More War (2005), The Lost Son 2 (2006), and Men on Hard Way (2007). Uju Okoli to her name has many Nollywood movies she has starred in. She began acting in 2007 when she was 24 years old.
The Imo state born actress is 37 years old as of 2020, she was born on the 26th of April 1983. We will be writing on Uju Okoli's biography, and career in the movie industry. We will also look at her relationship status and her net worth.
Name Uju Okoli
Age 39 years
Date of Birth 26th April 1983
Occupation Actress
Father Obi Okoli
Marital Status Married
Husband Unidentified
Net worth $350,000
Uju Okoli Biography
Uju Okoli was born on 26th April 1983 in Imo state. As of 2021, she is 39 years old.
She hails from Akokwa, Ideato North LGA in Imo state. Ada Akokwa as she often addresses herself was born into the family of renowned Nollywood actor, Obi Okoli. She grew up in Imo state where she completed her basic and secondary education.
She is married, but she has refused to give details because she prefers to keep her personal life a secret. She shared pictures of her traditional marriage to a handsome unidentified man.
Her husband's name is not yet out in the media, but we will update this page once we have it.
Uju Okoli Career
Uju Okoli started acting at an early age, but she is known to have acted in a 2005 movie, No more war, which was directed by her father. Ever since she has been landing several roles in Nollywood movies and professionally interpreted her roles in movies she features in. Some of the movies she has featured in includes;
My Last Hope
Sound of Ikoro
Echoes of Love
Village Liars
Strength of Love
Strange of Love
Ring of Fate
Another World
Family of Enemies
Feast of Blood
Barren Kingdom
Royal Struggle
Designated Prince
Amazing Husband Season 1 and 2 (2019)
Uju Okoli is also known to have featured in the popular TV series including; The Palace, and Mr. Landlord. in The Palace movie, she acted alongside Liz Benson. She played the role of Sarah in a 2018 Nollywood movie titled Royal Tournament, featuring alongside Zubby Micheal.
She is known to have featured alongside top actors and actresses in the movie industry such as the likes of Liz Benson and Yul Edochie. Her talent and passion for acting have kept her active and relevant in the industry as she still acts in popular movies that make it to the big screens
Uju Okoli Net Worth
She is a versatile Nollywood actress and was well-groomed by her father to a professional level. She rated one of the richest and most influential actresses. Uju has an estimated $350,000 net worth.
In 2019, She was awarded the Nollywood Honours Awards for her excellent participation towards the growth of the Nollywood movie industry.