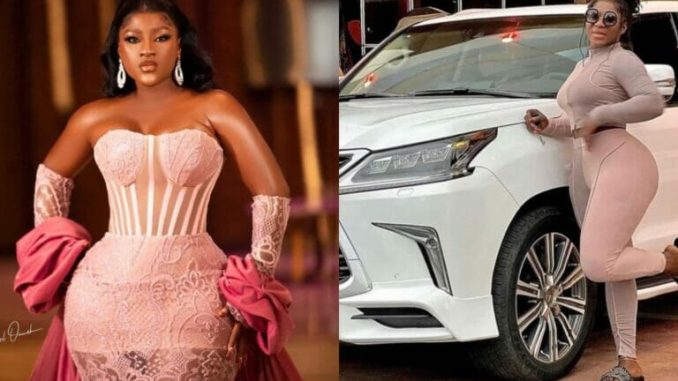 Nollywood actress and brand ambassador Destiny Etiko has splashed millions of nairas on a new whip.
The actress, who turned 33 days back, has added a new car to her fleet of cars.
Taking to her Instagram story, Destiny Etiko shared the good news with her millions of fans.
Destiny had acquired a Lexus S70 worth millions of nairas.
This is coming weeks after she surprised her mother with a new automobile.
Destiny Etiko brought her mother to tears with her surprise gift to her.
The curvy actress splashed millions on a brand new car for her, which got her mother emotional.
In a video shared on her Instagram page, Destiny Etiko's mum was shocked as she sighted the new car.
Giving thanks to God, her mother rained prayers on her.
My mom's birthday gift arrived late, but I am excited she is extremely happy. Enjoy your ride, mom. Love plenty".
The curvy actress couldn't help but scream for joy as her male colleague, Zubby Michael, surprised her in grand style.
KFN reported on Friday, August 12th, that Destiny Etiko clocked 33.
The Drama Doll queen, as she is fondly known, recounted her childhood experience as she gave thanks to God.
While growing up, everyone around her spent their time trying to be great, and she emerged as one of them.
She expressed her pride about being one of the lucky ones who has always been great and what she has achieved at her age.
"Growing up, everyone around me spent their time trying to be great. I am one of the lucky ones who has always been great and I am so proud of myself and what I have been able to achieve in my age. All glory to God Almighty. I am unstoppable, I am powerful, I am a Porsche with no breaks, I am invincible, I am so confident, I need no batteries to play, I am independent, yeah, I am very single game. I pray for long life and prosperity and I also pray that my new age brings forth unending joy and happiness to my life and my loved ones. Happy birthday to me. A brave leo queen".
To celebrate her new age, Destiny Etiko threw an elaborate birthday bash with many of her colleagues in attendance.
Queen Nwokoye, Zubby Michael, and Jerry Williams were spotted at the event.
Zubby Michael left Destiny Etiko speechless as he rained bundles of nairas on her.