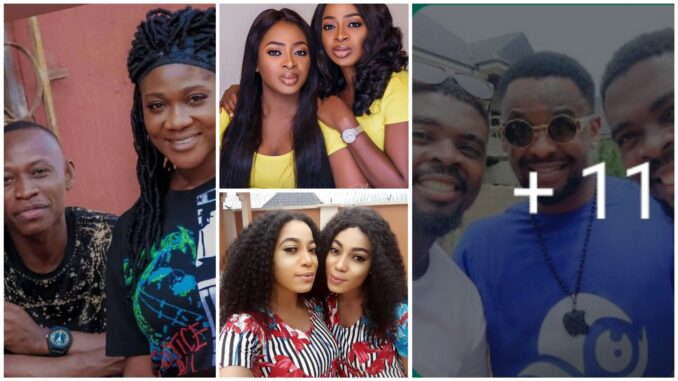 With Nigeria reportedly known to be the hub for Twins in the world, it is not far fetched that our celebrities have partners who shared their moms' wombs with them. Sometimes people come to the world in twos, and this is not referring to the mythical stories about people having doppelgangers who look exactly like them in other parts of the world. This is referring to people who are actually twins. Unknown to some, a few Nigerian celebrities came to the world with a partner even though they might not be as known in the spotlight.
1.Taiwo and Kehinde Bankole
Nollywood actress and former beauty queen, Kehinde Bankole is a twin. Yes she is, and this should have been obvious seeing as her name means 'second to come' in Yoruba. However, many of the film star's fans are not aware of this fact because her twin sister is not one who is in the spotlight. Taiwo is an event planner and she also acts in movies on a few occasions. The duo does not look identical but they are both pretty.
2.Eniola Ajao
" alt="" aria-hidden="true" />
Nollywood actress, Eniola Ajao, is also a twin. And her twin is also a pretty lady like her. The duo recently clocked a year older on January 21, 2020.
3.Mary Lazarus
" alt="" aria-hidden="true" />
Nigerian actress, Mary Lazarus, is also a twin. However, her twin is a handsome young man named Joseph. They were born on May 5, 1986, in Abia state.
4. Eku Edewor
" alt="" aria-hidden="true" />
Nigerian actress, TV presenter and model, Eku Edewor, is also a twin. The media personality has an identical twin sister named Kessiana Edewor. They were born on December 18, 1986.
5. The Aneke twins
" alt="" aria-hidden="true" />
Perhaps these are the only set of twins on this list who have similar jobs and are also in the limelight. Chidinma and Chidiebere Aneke love to show off that they are twins and this is evident in their similar outfits and identical posts on social media.
Wouldn't you love to have twins too?