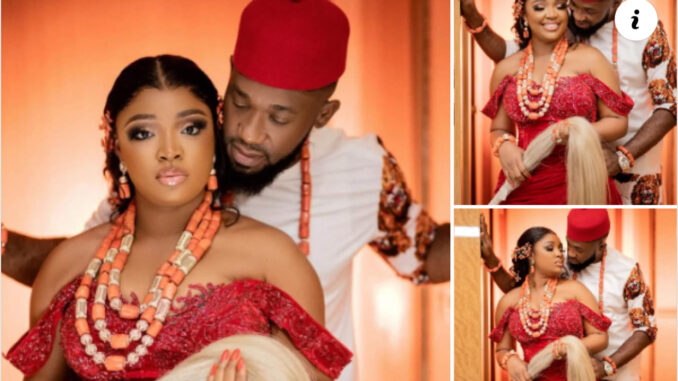 "It's happening quick", Fan still congratulating Ekene Umeuwa as she official does White Wedding Today. Let's congratulate her and wish her a Married Life [Photos]
Happy marriage life! Pictures from the traditional wedding of nollywood actress Ekene Umenwa, few days after she announced her engagement
Ekene Umenwa, the celebrated actress, and her filmmaker partner, Alex Kleanson, have embarked on their path to forever with a heartfelt traditional wedding in the picturesque Anambra State.
WITHIN NIGERIA artfully stitched together captivating videos and snapshots from this grand event, while on social media, well-wishers couldn't help but let the compliments flow like a river, showering the radiant bride with heartfelt blessings.
Ekene Umenwa, the Nigerian screen sensation, was positively beaming from ear to ear as she and her longtime lover, the head honcho of Firstnollytv, Alex Kleanson, joined hands in the sacred bonds of matrimony at traditional wedding.
The movie star, who recently let the cat out of the bag about her engagement to the filmmaker, hit us with some long reels from her traditional wedding fiesta held right in her own hometown in Anambra State.
In the footage she posted, Ekene and Kleanson were decked out in their finest traditional garb at their big day, surrounded by a sea of friends and family.
She had a smile as wide as the Mississippi as the couple delved into the intricacies of Igbo traditions hand in hand, hit the dance floor with guests, and swayed in harmony with their loved ones.
Captioning the clip, Ekene confirmed that her bride price was paid on April 16th, 2023, sealing their traditional matrimony. However, due to the turbulent circumstances in the East, she opted not to go the whole nine yards with the type of traditional wedding she had in mind.