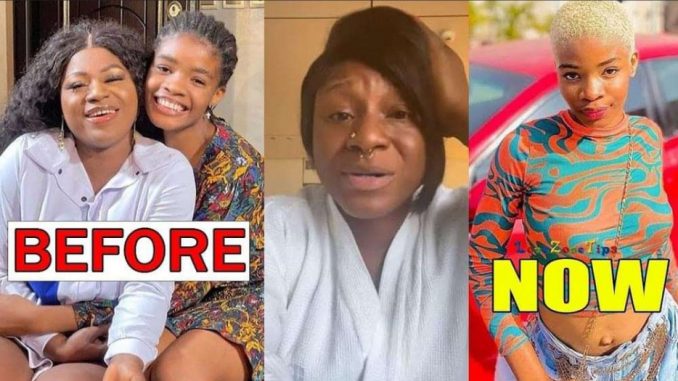 Nollywood actress, Destiny Etiko has seemingly hinted at the presence of a feud between her and her adopted daughter, Chinenye Eucharia as she discloses why she can't adopt anyone again.
The actress made this disclosure via her Instagram page a few hours ago. The self-acclaimed Dramadoll had shared a video of the moment she met some ardent fans who were so excited to see her.
In the clip, the girls who couldn't contain their excitement hugged Destiny tightly throw the car windows as they exchanged warm pleasantries.
Captioning the post, she wrote:
"How they almost hurt themselves jumping down from bike ???? just to greet me….I had to quickly stop…Love u guys right bak ❤️❤️❤️❤️❤️
Thanks for capturing this beautiful moment ❤️ @irene_ibekwe"
However, taking to the comment section, an observant netizen who noticed how Destiny zoomed off immediately after her encounter with the girls, left a triggering comment.
She wrote:
"Lolz…destiny no wan adopt again, she jejely drive the go front."
In response to the comment, the screen diva stylishly spilled the beans, she stated:
"My sister since there are lots of disrespectful and ingrates… am done o."
See the screenshot below:
Another IG user commented on her gesture while greeting the girls which to him appeared a bit demeaning.
He wrote: "Are they smelling? Why you do that nose like that."
In reaction, the thespian also wrote: "No they are not o… Just didn't expect it."
This comes amid rumours of a beef between Destiny Etiko and Chinenye Eucharia, which led to the former unfollowing the latter on Instagram.