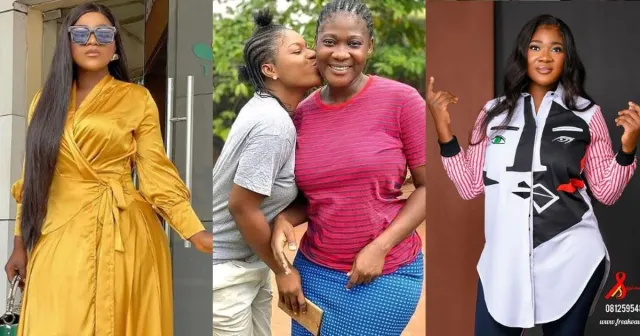 The Nigerian movie industry is inarguably blessed with dexterous and talent-driven thespians who put their very best into what they specialize in (acting). The works of these actresses have spiced up the lives of many Nigerians as they never fail to feed the audience with back-to-back blockbuster movies.
Amongst the long list of talented actresses in Nigeria are two outstanding and passionate movie gurus; Destiny Etiko and Mercy Johnson. As it stands, these names can't be omitted from the lists of actresses who are making waves in the industry and that is why it is pertinent for us to conduct a survey on their striking similarities which has gotten them this far in the industry, boosted their fanbase, and kept them at a level every upcoming movie star would want to be in the nearest future.
Mercy Johnson Okojie, a renowned personality in the Nigerian movie scene was born on the 28th day of August 1984, 37 years old. She is married to a highly-rated entrepreneur, Prince Odianosen Okojie and their marriage has lasted for a period of ten years (since 2011) without an atom of squabble emanating from it; a big kudos to her in that aspect though.
Destiny Etiko, one of the dominant and rampant faces you will see in almost all Nollywood blockbusters is undeniably an embodiment of talent laced with all the components needed in any female actor. Destiny Etiko is a true daughter of the Igbo ethnic group in Nigeria, she hails from Enugu State. Dramadoll as she is fondly called was born on the 12th day of August 1989 (32 years old). She obtained a degree in Theatre Arts from Nnamdi Azikiwe University. Etiko came into the limelight after she starred in the famous movie which shook Nollywood enthusiasts, Idemili. Her role in the thriller remains a factor that skyrocketed her to the level she is now.
It is also important to note that although these two movie stars have left indelible footprints in the sands of Nollywood, there are definitely levels to this game of acting. Mercy Johnson Okojie remains a senior colleague in the industry; a fact that can't be disputed or contested. A glance at their Instagram page goes a long way to justify this.
Refer to the IG pages of the duo below:
However, we ought not to digress into comparing the two drama queens, because they all have their strengths and weaknesses which makes them human, instead, we are going to dedicate our energy towards identifying the striking similarities they possess as the case may be.
Three striking similarities between actress, Destiny Etiko and Mercy Johnson
Mercy Johnson and Destiny Etiko possess lots of similar attributes which have seen to the fact that they get to the top and maintain their place there.
First, Their mode/style of acting: Undoubtedly, Destiny Etiko and Mercy Johnson possess a similar acting pattern that keeps viewers engrossed in their movies. This semblance has been so visible to the point that a lot of people tend to say Destiny Etiko is gradually taking over from her role model, Mercy Johnson. Destiny Etiko and Mercy Johnson add mind-blowing passion to any movie they feature in. Their ability to take on any given task places them at a vantage point and have increased their chances of bagging contracts upon contracts. Mercy Johnson was first known for her versatile role in movies, she acts like royalty, a village hooligan, a civilized and wealthy lady, just name it. It was her excellence in all these roles that made her who she is today. In the same vein, Destiny Etiko has broken many grounds in Nollywood with her versatility which is quite similar to that of Mercy Johnson. She features in any type of play, undertakes the role assigned to her and doesn't fail to deliver to the fullest.
Second, Their comic sense: Destiny Etiko and Mercy Johnson are outstanding comic stars who feed their audience and fans with lots of hilarious content both in their movies and on their various social media handles. This is why I say they fit into almost all aspects of movie production. The duo has made skits with one of Nigeria's famous online comedians, Zicsaloma, and as expected they didn't fail to give us humourous content. Destiny Etiko's Tiktok videos also speak loudly of her comic skills, the actress makes funny and intriguing clips. Coming to their movies, they are nothing but embodiments of entertainment. Destiny and Mercy Johnson are top-notch when it comes to thrilling viewers with rib-cracking movies. A movie of Mercy Johnson which once got me on the floor is Dumebi the Dirty Girl where she acted as a local and unhygienic lady who kept on embarrassing herself in any given setting. This movie was actually a hilarious one for me back then.
Check out a recent comic video made by Mercy Johnson lately:
You can also click HERE to get an instant redirection to the Instagram page of Destiny Etiko.
Third, their social life: Destiny Etiko and Mercy Johnson are not controversial sets of individuals. They both socialize in a friendly manner with their colleagues and fans at any given opportunity. Reference can be made to the young lady, Chinenye Eucharia who Destiny Etiko adopted and changed her life within a matter of days. Today, the young lady has bagged several movie roles all because of the efforts of Destiny Etiko. Dramadoll also has a foundation in her name, Destiny Etiko Foundation, through which she assists the poor and helpless. Undoubtedly, these actresses are gems in the Nigerian movie industry. To date, Mercy Johnson and Destiny Etiko have never engaged in any form of cyber-bullying or trolling which is quite rampant among celebrities in Nigeria. They are only keen on developing themselves, their brands and others in any little measure they can. Feel free to call them problem-free thespians. Recently, Destiny Etiko acquired an exotic Lexus SUV which is evidence of her success in the Nigerian movie scene.
In conclusion, these two actresses through their adorable lifestyle have encountered enormous successes in their daily lives. Mercy Johnson currently enjoys tons of ambassadorial deals from companies of great repute and so does Destiny Etiko. Destiny Etiko who is actually following the footsteps of Mercy Johnson also enjoys very strong support from her enthusiasts who appreciates her works in entertainment. To this end, we have done justice to some of the striking similarities between the two Nollywood finest thespians, although these may not be the only visible similarities, you are urged to drop your comments and chip into the current gist if your suggestion(s) is related to the issue in discourse.