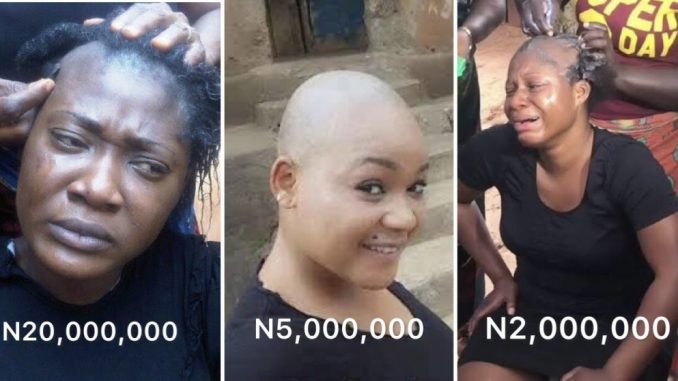 Despite the hardship in the country, the entertainment industry has always given us a reason to smile and to look forward to better days as they keep serving us with great songs to groove to and interesting movies. In this article we will be talking about Nollywood Actresses who were brave enough to shave their hairs for a movie role.
Some of our actresses have gone to the extreme and made some serious sacrifices just to keep us entertained and we decided to compile a list of Nigerian actresses who have gone bald for movie roles.
(1) MERCY JOHNSON
The first on our list is Mercy Johnson. The 34 years old actress and mother of three starred in a movie titled "Heart Of A Widow" in the year 2011 and she went bald for a role as a widow. In the movie, she was almost raped by her husband's friend but her husband came through for her. But in her defense, her husband lost his life and was murdered by her husband's friend who then went about accusing her of murdering her husband.
(2) CHIKA IKE
Number two on our list is Chika Ike. The 33 years old actress featured in a movie titled "Moment Of Tears" in which she was the wife of veteran Nollywood actor, Olu Jacobs. She went bald for the movie role and on the 12th of April 2013, the actress was paid a whopping sum of N5 million for her role in the movie.
(3) OGE OKOYE
Number three on our list is ace Nollywood actress Oge Okoye. The 38 years old actress starred in the movie "The Three Widows" in which she alongside Queen Nwokoye went bald in the .
(4) Annie Idibia
Annie Macaulay–Idibia, the wife of award-winning Nigerian singer and songwriter makes the number 4 on our list. The actress went bald in the year 2015, but unlike others, hers was for a different reason. She went bald for her campaign to increase breast cancer awareness in the country.
(5) Ebube Nwagbo
Ebube Nwagbo takes the number 5 spot on our list of Nollywood actresses who have gone bald. The 35 years old actress went bald for the movie titled "Widows Cult" and rumor has it that it was the movie that brought the actress into the limelight.
(6) Toyin Abraham
Toyin Abraham seems to be comfortable with going bald for a movie role as she has gone bald twice while carrying out her job. In 2017, the actress shaved her hair for a movie titled "Ana Mi (My Past)" and she is also doing it again as she took to Instagram to share a video of her shaving her hair for a new movie. See the video of Toyin Abraham shaving her hair below.
(7) Faithia Balogun
Number 7 on the list is Nigerian actress, filmmaker, producer and director, Faithia Balogun. In 2011, the actress went bald for her "Makomi" which was the hit movie that brought her into the limelight and in 216 she went bald again for the movie "Shola Arikusa".
(8) Chinyere Wilfred
In the year 2014, ace Nollywood actress, Chinyere Wilfred joined the bandwagon of actresses who have gone bald in a movie. She went bald for the movie titled "More than a widow".
(9) Racheal Okonkwo
Racheal Okonkwo copes the 9th spot on our list of Actresses who have gone bald for a movie role. The actress alongside with Nazo Ekezie and Iheme Nancy went bald in the movie "Iga Alikeya". See their group picture below.
(10) Bimbo Akintola
Number 10 on the list is 48 years old actress from Oyo state, Bimbo Akintola. She played the role of a mourning widow in the movie titled "The Mourning After" in which she had to go bald.