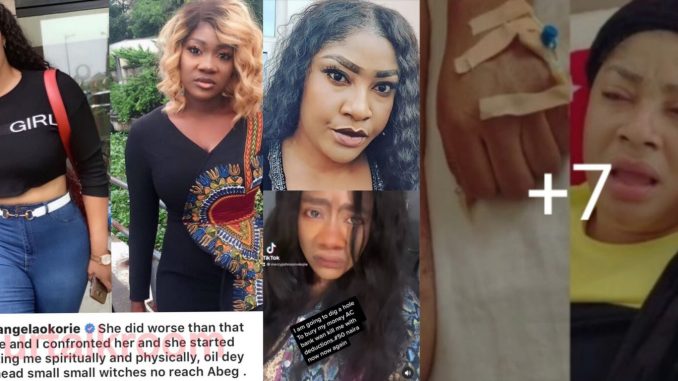 Nollywood actress, Mercy Johnson Okojie has been tagged a witch by her colleague in the movie industry, Angela Okorie.
It seems there's been an underground battle both actresses and now Angela has made good use of an opportunity that presented itself on Instagram to send out a stern warning.
The beautiful thespian called her iconic colleague a witch who did her many bad things and is now fighting her spiritually after she confronted her.
Angela made this revelation on another Nollywood actress, Sonia Ogiri's Instagram post.
Sonia had put up a post which she titled 'healing process' along with a video, where she called out Mercy Johnson for the hostile treatment she meted on her in her early days in the industry.
According to Sonia, Mercy Johnson has always hated her for no reason and she showed it severally, even on set.
She wrote:
"Hey sis @mercyjohnsonokojie I think is time to talk about all the pain you inflicted on me all this years in order for my healing process to take place.
"I hope MOTHERHOOD have changed you and you now understand when a mother wants to make her kid or kids proud of her tomorrow and just like you were overwhelmed by the love people showed you on your birthday, I hope you show/act true love towards people too.
"I needed to revisit this so as to get it off my chest cos holding it in all these years felt like I was imprisoned and it's about time set my free.
"Ps Tell your fans not to come for me cause you and you alone knows I'm not lying. Have a great day."
Moments later, Angela Okorie came on the post and backed the post up with a comment of her own.
"She did worse than that to me and I confronted her and she started fighting me spiritually and physically, oil dey my head small small witches no reach Abeg" she wrote.
Watch the full video below,