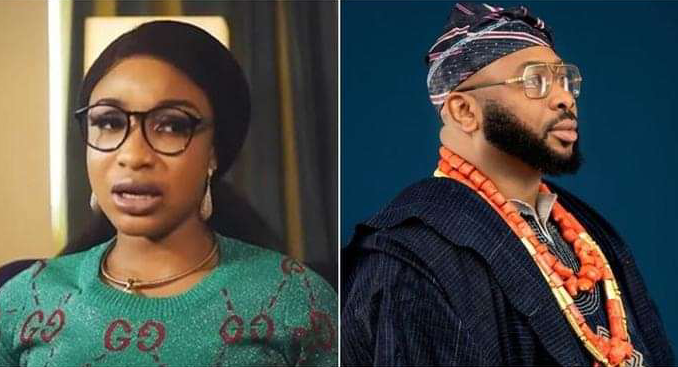 Nollywood actress, Tonto Dikeh continues to fume as she reveals how 'she married' her ex-husband, Olakunle Churchill with her money and how her friend's boyfriend paid for the room they slept in on their wedding night.
Tonto Dikeh who feels compelled to share the details of her experience with her ex-husband in order to make people reason with her, took to her Instagram page to share a video of an old interview she conducted a few years back concerning her previous marriage.
In the video, Tonto Dikeh disclosed how Olakunle Churchill deceived and manipulated her into marrying him, as well as how he reportedly took advantage of her financially.
She said:
"These are documents in which I request that this man repay me the money I spent on marrying him…My friend's boyfriend paid for the room we slept in on our wedding night. Another man paid for the room we slept in on our wedding night …These are all the documents to show that Olakunle Churchill was married with a woman's money." 
Captioning the video on IG, she wrote:
"DEAR WOMEN, DONT STOP TELLING YOUR STORY.
some day your children will ask you why you never fought for you and their truth and them..
Above all if you have a ex spouse who is a good father,please respect him.
Forget and put aside your personal hurt and give him his flower,IF HE IS A GOOD DAD.
PRAY FOR HIM ALWAYS BECAUSE YOU DONT KNOW WHAT YOU HAVE..
A Good dad doesn't have to be a good husband, remember that..
F&CK SOCIETY DO YOU.
BE BRAVE
BE RESILIENT
NEVER SETTLE
I DONT NEED VALIDATION, I WANT MY TRUTH HEARD AS MUCH TIMES AS I FEEL LIKE.
#KINGTONTO #MAMADEPAPA #YOLOBABY #GEMINI"
See the post below: