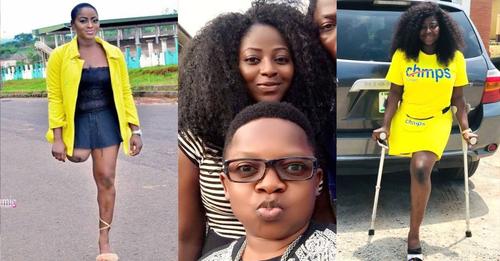 Meet the beautiful Nollywood fast rising actress who lost one of her legs. The name of this beautiful Nollywood actress is Doris Samuel Akonanya and she had one of her legs taken off after she was involved in an accident at the age of 13 years old. She was reportedly knocked down by a motorcyclist and to save her life, doctors had no option than to amputate her.
However, she defied all odds without letting her handicap rob her of anything in life. Regardless of her condition, she didn't allow it ruin her future. According to Doris Samuel she lost her leg when she was 13 years old in a fatal motorcyclist accident, Doris Samuel story should be a motivation for us.
She studied Theatre Arts at the Nnamdi Azikiwe University Awka, Anambra State in the south eastern part of Nigeria and despite being discouraged by her peers; she is set to take Nollywood by storm. She has proven that disability cannot deprive anyone from achieving his or her God given destiny.
Doris Samuel Akonanya hails from Anambra State in the south eastern part of Nigeria. She was still in secondary when she was involved in a motorcyclist accident and unfortunately had one of her legs amputated because it was badly damage and the bones broken into pieces. The only option was for the leg to be cut off and that is how she came up with just one leg.
Doris Samuel Akonanya joined the Nigerian movie industry popularly known as Nollywood in 2014 and rose to prominence in 2015 after featuring in several Nollywood blockbuster movies. She is noted for the role she played in a movie titled Susanna in 2015. She later produced her own movie in 2017 and it was titled Limitless. She has been described as one of the fast rising actress in Nigeria and also one of the most talented actress in Nigeria.
Because of her endearing talents and unique acting skills movie directors and producers in Nigeria always feature her in their movies as a lead character and she is well paid for any movie she features in. Doris Samuel Akonanya has become a source of inspiration to many people especially those who think that their life is finished.
Here are the pictures of Doris Samuel Akonanya, a fast rising Nollywood actress who lost her leg in a motorcyclist accident.