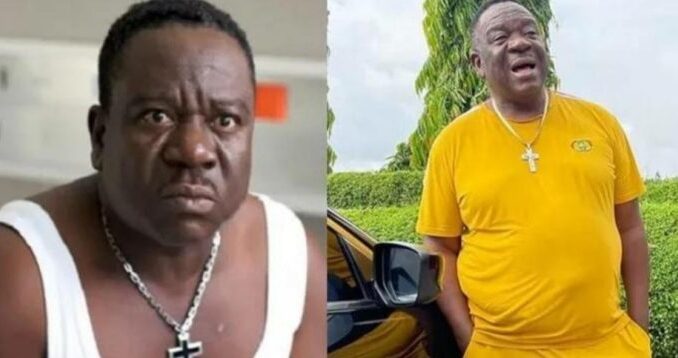 Mixed reactions have started pouring in online by netizens and celebrities as one of the legs of 62-year-old Nollywood actor Mr. Ibu gets amputated.
Today, November 6th 2023, Intel Region reported that the family of veteran actor Mr Ibu revealed that the actor has undergone seven surgeries but to keep his hope of staying alive, one of his legs has been amputated.
Several days ago, the family had announced that the actor had undergone five successful surgeries and would soon be transported overseas for additional medical treatment.
However, In a statement posted on the actor's Instagram page, the family revealed that he had undergone seven surgeries, resulting in the amputation of one of his legs.
The family said, "Good afternoon, Nigerians. We want to appreciate everyone that has come through for our dad, saying we are grateful is an understatement and only the good Lord can thank you all enough for every help you've rendered.
"As of 1 pm noon today , Daddy has gone through 7 successful surgeries but to keep him alive and increase his chances of recovery one of his legs had to be amputated. This development has been hard on us all but we've had to accept it as Daddy's new reality to keep him alive.
"Please we are still soliciting for support from well meaning Nigerians as this stage Daddy his is still one very delicate one and he needs all the help he can get.
"Thank you everyone, the Okafor family is grateful and we don't take you for granted. In due time daddy will personally acknowledge everyone who supported during this period as soon as he's stable! For future donations and support please send to, John I Kkafor. Access bank. Thank you."
Post below….
As expected, the post generated mixed reactions among netizens, while many said it was the sad news of the day, others expressed that the amputation is better instead of being dead as there is still hope when there is life.
Others get curious as they question the family on how the money donated to Mr Ibu was spent.
See reactions below;
judyaustin1: This is truly painful but in every situation we give God all the Glory. Praying for your quick recovery daddy.
chidichomy: Meanwhile some celebrities went for a wedding last weekend de spray 2m, 5m in the air while one of their colleague de online de beg money for his health. This life no balance o.
scarlet_zamani: So all the money realized wasn't enough to fly him out get proper treatment 💔🤦🏾‍♂️ now the leg has been amputated hmmm.
ivdoza: So people couldn't contribute for him. If it is to do gofundme for one nonsens£ bbnaija contestant na there we go see them
karo_okogbe: This family sha.
chyddo: Sometimes you just have to survive at all cost, pray for him, this is mentally challenging to him, his professional career and life in general. Its never easy accepting your fate in critical stands. May heavens strengthen him. Quick recovery legend.
amara_shuga: Atleast it's a good thing he was taken to the hospital rather than keeping him at home and waiting for an imaginary God to come down nd do magic.
aylhavish_x: Oga oo…And dem Dey give BBN naija winner 120 million 😢…So dem no fit support the man.
obianuju_priscillia_: This must be such a challenging moment for him and his family! Few days ago, you had legs and the next minute, one of it is gone. Phew!! Diabetes is such a chronic ailment. Pls, y'all, let's endeavour to check our blood sugar regularly. How you live your life in your youthful age will determine what your old age will look like. Health is wealth! May God strength him in this trying time.
itskunlereal: So sad… he lost his leg but importantly he didn't lose his life. May God strengthen him