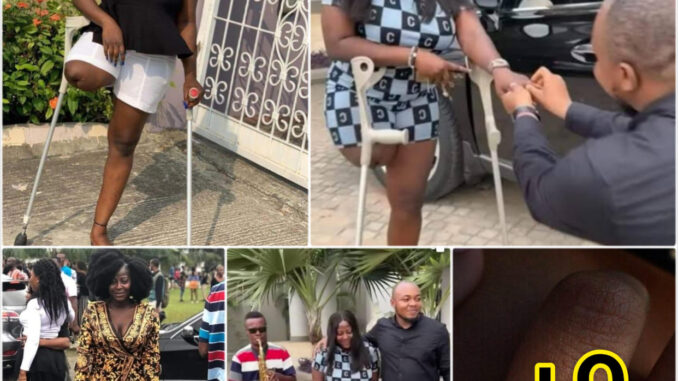 Congratulations!! True Love is rare", Nollywood Actress Doris Samuel Akonanya without legs surprised as Boyfriend Proposes to her with a Diamond Ring. Let's  wish her well [Photos]
Nollywood actress Doris Samuel Akonanya is in an excited mood as she is on the path to becoming a wife.
Her lovestruck boyfriend and social media influencer , Darlington Chidera Ibekwe, recently decided to take their relationship to the next step.
In videos making the rounds, Ibekwe popped the magical question to Doris on her birthday to the joy of friends that were around.
Speaking in the video, Darlington said,
"This is the first time I'm being available for your birthday since all these years. Whenever its your birthday, I'm not always around. I want to apologise for all those years, and I said I'm going to make it up today.
Happy birthday, my love. And one more thing since I'm available today. I want to be forever with you. Will you marry me?"
Doris Akonanya beamed with joy before saying yes to her man. Chidera came with gifts alongside the proposal ring for his woman.
SEE VIDEO BELOW