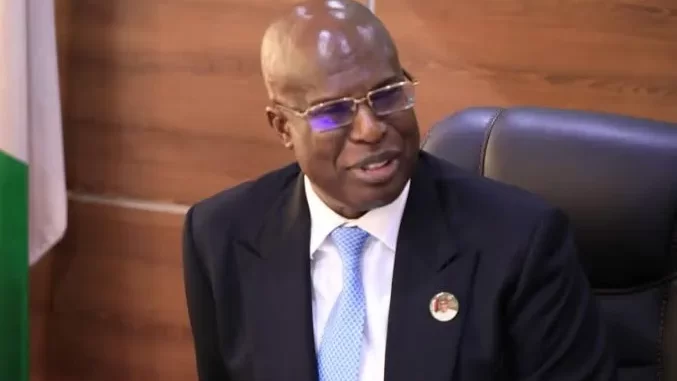 Timpre Sylva, Minister of State for Petroleum Resources, says federal government has taken bold actions to stop the ongoing petrol crises across the country, while assuring massive distribution of the product.
Mr Sylva gave the assurance after his tour of petroleum dispensing outlets in Lagos on Friday.
He said that he came on the directive of President Muhammdu Buhari to assess the situation of things with regard to distribution and adherence to price regulation.
The minister said that an inter-ministerial intervention, initiated by government, has set out to ensure proper management of petrol distribution across the country.
He reassured that with the current steps, all hiccups leading to the current situation was being addressed.
According to him, the situation is pleasant because he observed availability of products in the state, adding that "Fuel is everywhere, both in Lagos and Abuja.
"I visited many stations in Ikeja and on the mainland. From every indications, there are products everywhere and I want to assure you that the queues will disappear in a matter of days," he said.
The minister said the situation, witnessed in Lagos, had been achieved in 15 states across the country, adding that the President had ordered that queues must be cleared, immediately.
On arbitrary price hike by marketers, he said that he had directed the Nigerian Midstream and Downstream Petroleum Regulatory Authority (NMDPRA) to upscale its regulatory activities and ensure marketers abide by current price regime.
He said that the Nigerian National Petroleum Company Ltd., (NNPCL), retail outlets were selling at N184 per liter and over 900 outlets operated by the company were selling at same price.
"And that is the official price everybody is expected to sell, but l admitted there are sharp practices still ongoing," Mr Sylva said.
Explaining how the situation degenerated into the crises point, Mr Sylva said that the government did not see it coming.
According to him, sabotage plays a key role in the sector as those who do not mean well for the country take advantage of the upcoming elections, to create panic by engaging in market disruptions.
The minister pointed out that other factors like insecurity, foreign exchange scarcity and lack of currency availability further compounded the situation.
He, however, said that the inter-ministerial body, inaugurated by the president, is not working in synergy to put in check seeming challenges and block all potholes.
The NNPCL on Thursday allocated 150 million litres of petrol to Ijegun-Egba Satellite depots to ease scarcity.