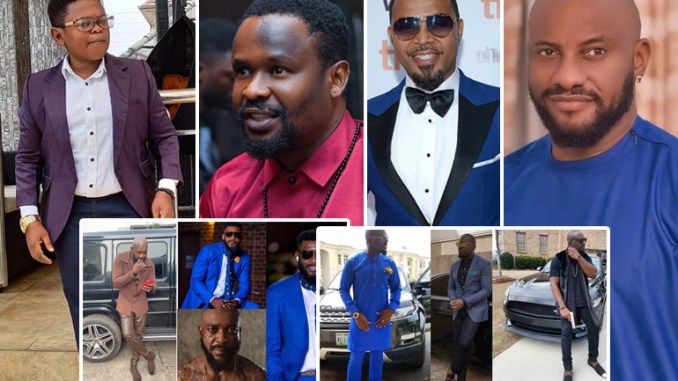 Another area of the Nigerian entertainment industry with many wealthy people is the movie industry. While many of them keep their wealth private, a handful of other Nigerian actors show off their wealth.
Below is a list of some of the wealthy actors in Nigeria in 2023.
Jim Iyke – $10 Million
Actor Jim Iyke is the #1 richest actor in Nigeria with a net worth of $10 million. The veteran actor hails from Anambra state and has been in the Nollywood industry for decades. He has grown and excelled in the industry, which keeps him in the number spot.
Some of his cars include:
Mercedes-Benz G-Wagon
Dodge Challenger
Plymouth Prowler Convertible
Camero SS Convertible
Desmond Eliot – $8.9 Million
Oluwashola Desmond Eliot is one of the richest Nigerian actors. Although now fully invested in politics, he has been in the Nigerian movie industry for decades and has starred in over 200 movies. Currently, Desmond is the lawmaker representing the Surulere constituency, Lagos State.
However, he has acquired a lot of wealth through acting. The actor's net worth is valued at $8.9 million, he has a multimillion Naira mansion in Lagos, and some of his car collections include:
A vintage Mercedes-Benz
A Ford Explorer
Nissan Versa
Toyota 4Runner Classical
A Toyota Hiace
2010 Toyota Camry
A Range Rover Evoque
Zubby Michael – $7.5 Million
#3 is the Igbo actor Zubby Michael also known as Doings or Eze Ndiala. He is one of the richest actors in Nollywood, with a net worth of $7.5 million. Since joining Nollywood, Zubby Michael has starred in and produced several movies. Below are some of the cars the famous actor and producer has.
Range Rover Sport
Mercedes-Benz G-Wagon
Lexus RX 330
Mercedes-Benz 4matic
Richard Mofe Damijo – $7 Million
Mofe Damijo is one of the Nollywood pioneers who has remained in the industry for over 30 years. He hails from Delta state and has starred in hundreds of Nollywood movies. Popularly referred to by his initials, RMD, his net worth is valued at $7 million.
The actor lives in a mansion in Imole Phase 1 and has luxury items like the Patek Phillippe Nautilus 5980R-001 worth 26 million Naira and a 400 thousand Naira Swiss wristwatch. A car collection that includes:
Mercedes-Benz GLE 550
BMW 4 Series Coupe
Toyota Land Cruiser
Range Rover Evoque
Lexus LX 570
Toyota Highlander
Mercedes Sedan
Mercedes G550
Chidi Mokeme – $6.8 Million
Chidi Mokeme is #5 on the list of richest Nollywood actors with a net worth of $6.8 million. He is a veteran actor, producer, director, and TV host. Chidi has starred in over 200 Nollywood home videos.
His acting and other business ventures have brought the actor a lot of wealth. His car collection includes some of the most luxurious SUVs, sportscars, and vintage cars.
Ramsey Noauh – $6.3 Million
Ramsey Noauh is another veteran Nigerian actor who has acquired much wealth through acting and other projects he manages. Being one of the richest Nigerian actors, Ramsey has a net worth of $6.3 million, and owns a luxury mansion in Lagos below are some of his luxurious rides:
Aston Martin Superleggera
1959 Cadillac Coupe de Ville
Range Rover Sport
Tesla Model X
Hummer H2 Stretch Limousine
Rolls-Royce Phantom
Chinedu Ikedieze – $6 Million
Chinedu Ikedieze is another popular Nigerian actor on the list of wealthy Nigerian actors. Popular known as "Aki," the talented actor has starred in hundreds of Nigerian movies and has won dozens of movie awards. Currently, his net worth is valued at $6 million.
The actor resides in a beautiful multimillion-Naira mansion in Omole Phase 1 owns a fashion brand, a football academy, a travelling agency; and below is the list of cars he owns:
Infinity Jeep FX
Honda Accord
Porsche Carrera 911
Hummer Stretch Limousine
Mercedes-Benz E300
Toyota Camry
Osita Iheme – $5.3 Million
Osita Iheme is the other half of the "Aki na Paw Paw" gang. Popularly referred to as "Paw Paw," Osita is a veteran Nigerian actor that has been in the industry for decades and starred in countless movies. The actor's net worth is valued at $5.3 million.
The actor has a foundation that builds acting talents, owns a luxury mansion and a hotel business, and invests a lot in real estate. Below is a list of cars the actor owns:
Land Rover LR3
Toyota Harrier
Honda NSX Sports car
Kanayo O Kanayo – $5 Million
#9 on the list is Nollywood star Anayo Modestus Onyekwere popularly known as Kanayo O Kanayo. He is a seasoned Nollywood star who has acquired immense wealth through his craft and other business ventures. His net worth is estimated at $5 million. Some of his cars include
Bentley Continental GT
2007 Toyota Camry
Toyota Land Cruiser
Toyota 4Runner
2012 Toyota Camry
Yul Edochie – $3.5 Million
Yul Edochie is another wealthy Nigerian actor. Yul, the son of Pete Edochie, has starred in countless Nollywood films, and the actor's net worth is valued at $3.5 million. The actor owns a house in Lekki, a series of designer wristwatches, and some of his cars, including
Mercedes GL 450
Mercedes C Class
Toyota Highlander
2007 Toyota Camry
2010 Honda Accord
Lexus LX 570
Conclusion
Above are some of the wealthy Nollywood actors, their cars, and their net worths. It's not an exhaustive list, however, but a list of some of the wealthy Nollywood actors, and the extent of their wealth is known publicly.