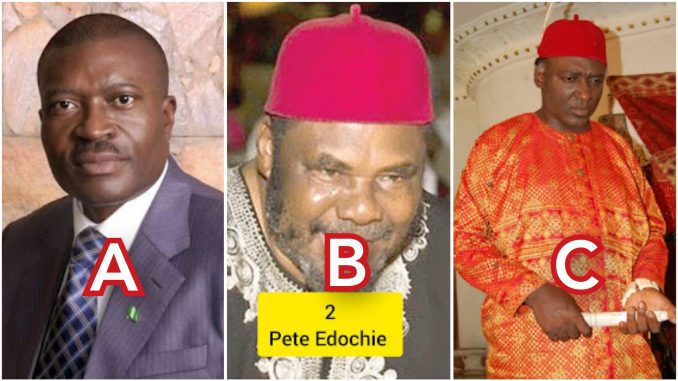 Money rituals has been a reoccurring theme Nollywood movies over the years. Usually a poor desperate man in a bid to hit it big, joins a fraternity and is asked to sacrifice someone dear to him, usually his wife or mother. Movies like 'Living in Bondage', 'Rituals', 'Narrow Escape', 'Dangerous Ritual Brothers', 'Abuja Connection' and so many others have portrayed this theme, so we want to take a look at the top Nollywood Actors who have made ritual movies popular in the country.
1* Kanayo O Kanayo
Do you know the erudite Professor's real name is not Kanayo O Kanayo?? His real name is Anayo Modestus Onyekwere. He won the award for the best actor in a leading role in 2006. He acted the movie 'Living in Bondage' which brought him to limelight in 1992. KOK is a fantastic performer, when it comes to playing the part of ritual character. He acts the role so well that whenever he is feautured in any Nollywood movie, you can easily tell the story line, he is always wealthy in most movies, he is always stealing people's destinies and using them for rituals.
2* Alex Usifo
Alex Usifo has feautured in over 190 Nollywood movies. Some of which are Strong Men at Work, Trumpet of Death, Final point, Silent Night, Dangerous Sisters, Desperadoes, Classical Fraud, Okoro the Prince and so many others. He is exceptionally talented, creative, gifted in acting and is known for his role as a Wealthy man, Chief, and a king in most movies. His style of acting, disposition and eloquence is absolutely outstanding and uniquely different.
3*Tony Umez
Tony Umez, is a famous Nollywood actor, manufacturer, movie director and a television character. He is gifted, skillful and talented, his roles in movies are romantic and most times, he will act very poor and then decide to do money ritual, quite funny but there is always a lesson to be learnt in those movies, if we are to be frank.
4* Kenneth Okonkwo
Kenneth Okonkwo who is also known as Andy Okeke, a name he answered when he acted of the blockbuster movie "Living in Bondage". He is one of the actors with impressive acting performance. For every movie he has feautured in, It will be wise to say that he gave it his best and Sterling performance. It is also in order to say that he is one of the actors who have starred in so many movies.
5* Bob-Manuel Obidimma Udokwu
Bob-Manuel is a Nigerian actor, director, producer and politician. He was nominated for Best Actor in a supporting role at the 2013 Nollywood movies Awards for his role in "Adesuwa". There is nothing more interesting and attractive to a movie producer and directors or virtually any one else in the movie industry than having or working with professionals and great actors. Bob-Manuel Udokwu is a great actor, who has shown to the world that acting is his passion. He is a proficient actor with good looks who has acted in quite a number of Nollywood movies.
6* Harry B. Anyanwu
Harry B. Anyanwu popularly known as Harry B is a Nollywood actor and Tv personality. He is one Popular actor in Nigeria that is nothing short of talent and it is right to say that this actor is perfect when it comes to interpreting the roles he is assigned. He is one of the actors in the Nigerian Movie industry that that take up any movie role and character.
7* Clems Ohanaeze
Clems Ohanaeze is a popular Nigerian actor who has feautured in more than 100 movies, he started acting in 1995 but came to limelight in 1998. He is well known for the way he acts occultist in movies. His acting finesse cannot be underestimated, infact he is viewed as the best by some of his fans. The way he nails this occult thing, one cannot but agree with them, that it is true.
8* Pete Edochie
(Smiles, I know you must have been wondering and can't wait for this) yes, Pete Edochie, is a veteran actor in the movie industry, he has been acting right from 1800s and he is still acting. Most of his fans can't wait to always watch his movies. He is a well respected actor with great outstanding skills, he is one of the actors who made Nollywood what it is today, because he witnessed the birth of Nollywood. He has large wealth of experience in terms of acting. He is always known as a king, or leader of the ritualist and occultist men in most movies.
9* Yul Edochie
Our famous Handsome and cute looking Nollywood actor, named after a popular Russian actor Yul Brynner. He is from Anambra state Nigeria, the son of the Nigerian actor Pete Edochie. He is known for his deep voice. The star actor who has made a name in various home videos lamented that quality of movies produced of recent are poor and the quality thereof must be stepped up. Like his father, in most if his movie roles, he is either a chief or among the occultists. It is therefore, wise to say that acting indeed, runs in the blood.
10* Ejike Asiegbu
Nigeria's foremost Nollywood actor, producer and director and one time President of the Actors Guild in Nigeria(AGN), Ejike Asiegbu. He joined the movie industry in the 90s and has received various awards in the Nollywood industries such as, best actor in a leading role, best actor of the year at the African Magic Viewers Choice Awards, best actor in Nigeria at the City People Entertainment Awards among others.
11* Zubby Micheal Egwu
Zubby Micheal Egwu, popularly known as Zubby Micheal is a famous Nollywood actor, model, television personality, entrepreneur and a philanthropist. He is handsome, gifted, creative, skillful and talented in acting. He knows how to interpret his roles and can feauture in any character given to him. He is well known to be a rugged and aggressive actor.
12* Enebeli Enebeluwa
13* Prince Emeka Ani
Hope this article was helpful and I guessed it reminded you of those days right?? Tell me which one I forget to mention and whi
ch one of them is your favorite?? leave your comments below.