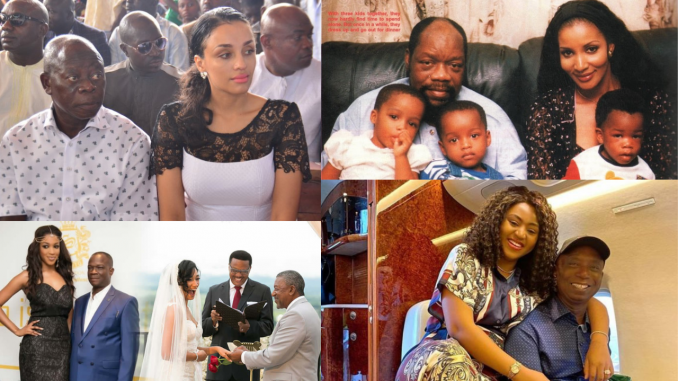 In this article I will be sharing with you 8 Nigerian billionaires that married girls young enough to be their daughters. Money they say stop nonsense and this fact is true because money rules the world. Why do women marry older men? Is it because of love or money? However that is a question I cannot answer. From time of old, the kingdom of love suffereth emotional violence and only sharp babes taketh it by force.
A new marriage culture seems to be taking place in Nigeria and it is no longer news that old men with money are now taken away our young ladies. It has been discovered that younger women preferred marrying older men who are advanced enough to be their father and this virus is catching on fast. Nigerian old men are living proof that it is never too late to find love. So therefore, after a careful study and research, I present to you 8 Nigerian billionaires that married girls young enough to be their daughters.
1. Adams Oshiomole
Adams Oshiomole is the former Governor of Edo State and current national chairman of All Progressive Congress (APC). Adams Oshiomole is married to a beautiful lady who is 40 years younger than him. Adams Oshiomole tied the knot with his wife, Lara Fortes in May 2015 at Etsako Marriage Registry in Auchi area of Edo State. During the time of their marriage Adams Oshiomole was 63 years old while Lara Fortes was 23 years old. During an interview with the media Adams Oshiomole confessed that she married him because she loves him.
2. Ned Nwoko
Ned Nwoko is a Nigerian Senator representing his local government at the senate. He is currently married to Nollywood actress Regina Daniels. He is 40 years older than his wife Regina Daniels. He got married to Regina Daniels on 28th May 2019 and the traditional marriage took place in Ogwashi-Alor in Delta State, Nigeria. Ned Nwoko is currently 60 years old while Regina Daniel is currently 20 years old. Regina Daniels during a media chat with On Air Personality Daddy Freeze stated that she loves her husband Ned Nwoko and married him for love and not for money. She also revealed that she called him baby.
3. Odumegwu Ojukwu
Late Odumegwu Ojukwu is the husband to former Miss Nigeria Bianca Onoh who is also a graduate of law school and a reigning beauty queen. Odumegwu Ojukwu was the former leader of the Indigenous People of Biafra until his death. He contested for Nigerian President twice and lost. In 1967 to 1970, he led the people of Biafra and fought the Nigerian civil war. In 1989, it was publicized that Bianca Onoh was dating Odumegwu Ojukwu the former Biafran leader and Nigerian Military Head of State also known as Ikemba of Nnewi. Ojukwu got married to Bianca in 1990 when he was 60 years old while Bianca was just 18 years old. Although he has other wives but Bianca was his most favorable wife.
4. Musa Danjuma
Musa Danjuma is a Nigerian billionaire and business magnet with interests in the shipping and paint industries. He is also is the Executive Chairman of Nigeria America Line Limited and Comet Shipping Agencies Nigeria Limited. He is currently 55 years old. Musa Danjuma is married to Nollywood beautiful actress Caroline Ekanem, who is 30 years younger than him. Musa Danjuma got married to beautiful Nollywood actress Caroline Ekanem in 2004. At the time of their wedding, Caroline Ekanem was 25 years old while Musa Danjuma was 55 years old. His wife Caroline Danjuma is one of Nollywood finest actress, but she has not been appearing on screen for a very long time.
5. Rasak Okoya
Razak Okoya is a Nigerian billionaire industrialist and the Aare of Lagos. He had his only formal education at Ansar-un-deen Primary School in Lagos. He is the owner and founder of Eleganza group of companies. Razak Okoya has had a number of wives in the past. His current wife is Sade Okoya whom he claims is loyal and hardworking. His wife Sade has also been honored with several awards as a fashion icon and role model. He is 35 years older than his wife. He got married to his beautiful wife Sade in the year 2000, when he was just 59 years old and his wife Sade was just 23 year old and also an undergraduate of Sociology at the University of Lagos.
6. Rotimi Makinde
Rotimi Makinde is a popular Nollywood actor and a politician. He acts mostly in Yoruba movies. Rotimi Makinde is married to a beautiful young lady who is young enough to be his daughter. He is 30 years older than his wife Oyebanke Oyelami who is just 23 years old. Rotimi Makinde got married to his wife Oyebanke Oyelami in 2013. At the time of their wedding, Rotimi Makinde was 53 years old while his wife Oyebanke Oyelami was 23 years. His wife is a model and the former Miss Osun State.
7. Emmanuel Iwuanyanwu
Emmanuel Iwuanyanwu is a Nigerian billionaire businessman and politician. He is the chairman and chief executive officer of Hardel and Enic Construction Company. Emmanuel Iwuanyanwu is currently married to a lady who is over 40 years younger than him. Emmanuel Iwuanyanwu got married to his wife Chinonyerem Enweren in a traditional wedding ceremony which held in Owerri, Imo state and a Glamorous white wedding which was held last year. During their wedding, Emmanuel Iwuanyanwu was 66 years old while his beautiful wife Chinonyerem Enweren was 26 years old. Emmanuel Iwuanyanwu is the founder of Heartland Football Club Owerri, which has won so many national and international championships.
8. Prince Sunny Aki
Prince Sunny Aki is a Nigerian Billionaire and businessman. He is the owner of Novena Majesty. Prince Sunny Aki is married to a lady who is 35 years younger than him. Prince Sunny Aki got married to Nigerian model and actress Dabota Lawson in an elaborate ceremony on 13th December 2014 at the Sky Terrace Hall, Oriental Hotel in Lagos, Nigeria. At the time of their wedding, Prince Sunny Aki was said to be in his late 50's while his wife Dabota Lawson was said to be in her early 20's. Their marriage was the talk-of-the-town and everyone wondered what a very young ex beauty queen and actress would be doing with a man who is 35 years older than her. But she explained during an interview that she married him because she loves him.