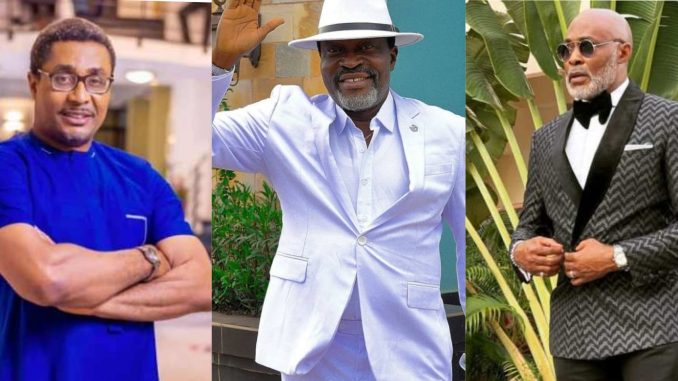 These men prove that age is nothing but a number.
Who said there is an age limit on looking good, feeling good, or rocking shorts?
While there is an idea that we as people have of people over 50, the actual 50 and above demographic are completely changing and rewriting the narrative of what that looks like these days. Some of such people are of course our very own celebrities who we've seen entertain us and grow over the years.
1. Kanayo O. Kanayo
Kanayo O. Kanayo is one of the most hardworking men in Nollywood and has been a consistent staple in the Nigerian movie and television industry over many years. Also off-screen, he continues to entertain through his social media that has spawned several viral moments and interesting content.
On top of all of Kanayo O. Kanayo's working, the man is also a style icon and continues to swag all the way out even as he approaches 60. I mean, Kanayo O. Kanayo is 59 years old and look at him!
2. Tony Umez
Am I the only one who thinks Tony Umez looks better and better every time I see him. The man is unarguably aging like fine wine. While a lot of people especially of his earlier work never associated Tony Umez with style, the man's style especially these days is ON. POINT.
I mean, Tony looks incredible. This man is 56 years old you guys!
3. Kenneth Okonkwo
Kenneth Okonkwo is another man that has been working for decades now in the industry and still got it. Also, at 51, Kenneth still looks amazing and has a really good sense of style.
4. Segun Arinze
Segun Arinze popularly known to many as Black Arrow is another phenomenal actor that can and has ably portrayed any role given to him. After so many years in the industry, he has still not slowed down and shows no sign of slowing down any time soon.
In addition, Segun Arinze is a really stylish man and is doing his thing even at 55.
5. Zack Orji
Another man who has been going at it, is still going, and still looks incredible doing it is Nollywood's own Zack Orji.
At 61 years old, Zack Orji still looks phenomenal and is still working as hard as he ever has.
6. Ramsey Nouah
Nollywood icon Ramsey Nouah joined the 50s gang last year. Can you imagine it? Ramsey has been such a staple in the Nigerian movie industry and in recent times, he has become even more of a tour de force because of all the things he's been producing and starring in.
On top of that, Ramsey is one of the most stylish men in this industry and has not lost hold of that title all these years later.
7. Richard Mofe-Damijo
By far the most stylish Nollywood actor over 50, Richard Mofe-Damijo is the definition of a style icon and has been one of Nigeria's leading men in fashion for many years now.
With one of the most respected careers in the industry and a wardrobe to kill for, Richard Mofe-Damijo at 60 is a whole mood!
Which man do you think is the most stylish?