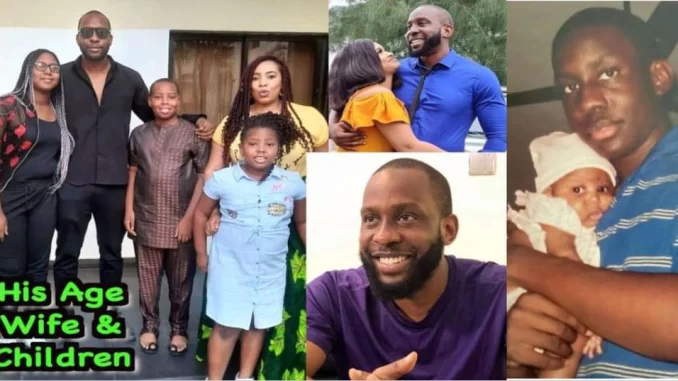 Ray Emodi (born 4 September 1990) is a Nigerian actor, media personality, and model from Anambra state famous known for playing the role of a lover boy in Nollywood movies.
Nollywood movies.
The 32-year-old actor is one of Nollywood's young and promising acts, constantly delivering versatile roles in movies. He is majorly known for his romantic characters and fusion pop music style, displaying eye-catching tattoos, especially the Nigerian map on his chest.
Who is Ray Emodi?
Ray Emodi is a Nigerian actor, musician and film producer who has appeared in over 200 Nigerian movies and counting. He is known for his foreign-sounding accent in movies and portrayal of lover boy characters.
What Is Ray Emodi's Age and Where Is He From?
Ray Emodi is currently 32 years old born on the 4th of September 1990 in Enugu, Nigeria, but he is a native of Ogboli-Eke village Onitsha, Anambra State. He had his primary and secondary education in Enugu in the South-Eastern part of the country before moving to Nottingham for his university education. Upon arrival in the United Kingdom, he lived there and studied, eventually graduating with a Bachelor's degree in Business Management and Strategic Enterprises in 2011 at the age of 21.
Upon completing his degree course, he moved to Los Angeles, USA, the city of angels, to pursue professionalism in his field of passion – acting. Enrolling in the New York Film Academy LA, he studied and obtained a master's degree in Fine Arts (Acting) at 24. Before graduating from the Film Academy, he wrote and featured as an actor in a short film titled God's Own Villa in 2013 at the age of 23.


The film was released in the United States and is central to the depression of an introvert struggling with agoraphobia. Ray played the introvert character alongside an American actress, Alyssa McCourt. Also, at the same age of 23, he wrote, produced, and directed a short film titled You Don't Say in Los Angeles, which was supposed to be a comedic series airing weekly.
Ray Emodi's Mother is a Senator While His Father Was a Doctor
He was born into an affluent Christian-catholic family with high standards of morality and intense value to education, having a highly driven mother and a brilliant academician father. While growing up, his mother, Joy Emodi, pursued her education in law school and went professional by 1987. At the same time running businesses and raising the children too. The male-dominated political scene did not discourage her, as she pushed herself to become a senator at the Anambra North Federal constituency on 20th February 2005 after Emmanuel Anosike's election was annulled.
Having been re-elected in 2007, her second term was appealed by Alphonsus Obi Igbeke, the candidate of the ANPP, and after protracted hearings, he was declared the winner in 2010. Thereafter she served as the presidential adviser. His father, Late Dr. Okey James Emodi (Ph.D.), met and courted his wife Joy when he was a young lecturer, and she was a student pursuing her first degree in Geography at the University of Nigeria, Nsukka.
They later got married in 1980 in London. There is no doubt that his support and love were pivotal in molding the woman Sen. Joy has risen to become. Their affluence did not stop them from ensuring their children were raised in the ways of sound discipline. Dr. Emodi passed away at the age of 77 and was buried in September 2020.
Ray Emodi Has Three Siblings
Ray Emodi has 2 sisters; Mrs. Nneka Emodi-Eze, Mrs. Chibogu Illozue, and a brother Mr. Onyechi Nwachukwu Emodi. Also, a close relative, Udy, who the actor grew up with, passed away on March 3, 2020, aged 26. The death of his relative was a sad and emotionally challenging time in the actor's life, as he notes they were very close. He misses the person his brother was, intelligent, gentle, and godly. He loved music and listened to only gospel songs most of the time.
His first sister, Nneka Emodi-Eze, is also quite close to the actor who fondly calls her "baby risky" on social media. She is married to Alex Eze, who she never fails to applaud for his support, and together, they have 3 children. Nneka is a professional lawyer and a passionate educationist in which capacity she works as the Director of Brick Hall School Abuja, which was established in 2015. She enjoys her time with her kids and work.

Not much is known about his other sister Mrs. Chibogu, but we know she married Mr. Chijioke Ilozue of Umudioka Dunukofia LGA of Anambra State in 2013. Their white wedding took place in Abuja in 2014.
He Made His Debut in Nollywood at The Age of 27
Before his return to Nigeria from the US, Ray featured in some international short films, including You Don't Say (2014), Eye on the Ball (2014), and Animus (2015), where he played the role of Officer Wright. His acting career in Nollywood started right after he met Mary Remmy Njoku, who believed in his skill and offered him a gig to cast in Unfinished Business in 2017.
Soon, he landed roles in many movies playing mostly leading roles in films that include Heaven on My Mind (2018), Caught in Between (2018), The Devil Within (2019), A Call From The Past (2020), Caught Up (2020). Over the course of his career as a Nollywood actor, Ray has featured alongside many A-List actors like Ruth Kadiri, Bayray Mcnwizu, Mary Lazarus, and Yvonne Jegede, among others.
Ray Emodi is Also a Musician and Model
Emodi has a blissful career in the movie industry. However, he has unleashed his other talents in modeling and music. Although he hasn't made it big in both industries, his music seems promising. At present, he has released several songs with accompanying music videos. His songs are Give Her Ring (2018), Night Time (2020), and 5pm.
Going by the same name in his music career, the actor has said that he does a fuse of pop and dance music not specific to a particular region but something his fans can enjoy globally. The proud Igbo-born celebrity infuses his local language into his music as a touch of sharing his background with the world. Despite this, his foreign accent is one of the features that made him stand out in Nollywood. In 2013, he was enlisted for the Model Mayhem project in California, USA.
He Got an Award A Year After He Started Acting Nigerian Films
Ray stepped his foot in the Rok Studios for the first time, hoping to get an acting gig. He received a call a week later to join the cast of Unfinished Business in 2017. Ray got a lot of recognition from the film, and a year later, in 2018, he won the City People Movie Award in the Revelation category (English). In the same year in the City People Movie Award, Emodi was nominated for Best New Actor of the Year and Best Upcoming Actor of the Year.
Ray Emodi's Wife and Marriage
As at the time of writing this biography page, Nollywood actor Ray Emodi is not married and does not have a wife.
Ray Emodi's Siblings
Ray Emodi has a sister who is currently married with a child.
Ray Emodi and Nancy Isime Relationship
Contrary to widespread rumours, Ray Emodi and beautiful Nigerian actress Nancy Isime are just friends and colleagues and are not dating or planning to get married.
Ray Emodi and Destiny Etiko Relationship
There were also rumours that Ray Emodi and curvy Nigerian actress Destiny Etiko are planning to get married. These rumours are untrue. The two actors only worked on a movie project and are not planning a wedding at the time of publishing this post.
Other Interesting Facts About Ray Emodi
Asides from acting, Ray Emodi is also a musician and has released a number of songs.