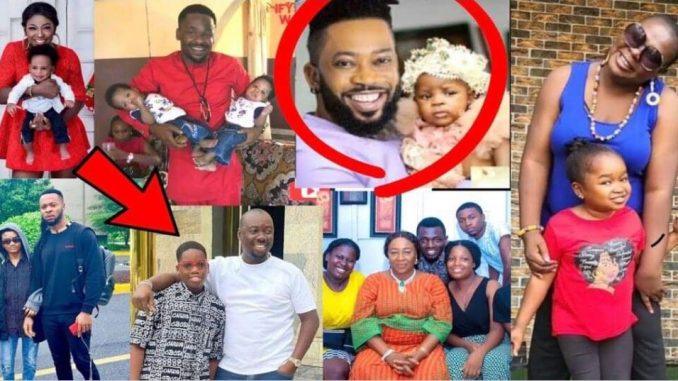 The Nigerian celebrity industry is blessed with lots of talents and dignitaries who also have the urge of making a positive impact in the community by lending helping hands to people. Here is a comprehensive list of 10 Nigerian Celebrities You Never Knew Adopted Children
Popular Nigerian actress, Destiny Etiko has been in the news lately because of the young girls she said she has adopted as her own to help her push her career in life.
However, she is not the first Nollywood star to have done such wonderful humanitarian work. In this article, I will be sharing with you 10 Nigerian Celebrities that have adopted kids they met on the street and gave them a better life.
1. Destiny Etiko :
In August 2021, Destiny met a young fan on the road who professed how much she loved her and her acting talents in a video.
Destiny Etiko shared the video on her Instagram page and later launched a search looking for the young girl. She successfully found her and announced that she has adopted her as her daughter as well and will help her achieve more in life.
Destiny didn't waste time or let her promise be in vain. She gave her new daughter fame instantly and she now has 83 thousand followers on her Instagram page and got her role for her first movie.
Through Destiny Etiko's Influence, popular Nigerian entrepreneur, Cubana Chief Priest gifted the young girls 200 thousand Naira in cash.
2. Williams Uchemba :
On the 18th of June 2020, actor Williams took to his Instagram page to announce that he has adopted an 18 years old boy named Demola as his son.
According to him, he met Demola when he was at a furniture shop and Demola happens to be one of the carpenters in the workshop. He decided to engage in a conversation with him only to realize that the young boy is very smart and just finished his secondary school education with good grades.
From there, Williams decided to take him in as his son and train him in school after the boy revealed his dreams of going to the university to study economics.
11 days later, Williams shared a photo and video on his Instagram page showing that he has kept his promises to the young boy.
Williams allowed the boy to move in with him to live together in their mansion and he is already teaching him a lot of things and taking him as his son.
1 year after Williams adopted Demola as his son to take care of him, he shared photos of him showing the amazing transformation he has undergone.
Demola who is now aged 19 looked very much different from what he looked like when he was picked up by Williams. He looked more healthy, cared for, and very neat compared to when he was a teenage carpenter.
Demola has turned from a teenage carpenter into a big boy under 1 year with Williams and the changes are very visible.
3. Anita Asuoha
Nigerian comedian, actress, and dancer, Anita Asuoha popularly known as Real Warri Pikin a few years ago adopted a young girl as her own after she came to start living with her.
The 16 years old girl named Stella also added Asuoha to her name after she was adopted. Anita has given her a better life and a platform to excel more in her life and career.
4. Flavour
Flavour might not be in full-term acting but he is also an actor and has debuted in multiple Nollywood movies.
In 2017, Flavour was donating to the poor in Liberia he met a young boy identified as Semah G Weifur. According to Flavour, the boy sang his song better than him.
Flavour picked interest in the young boy and flew him to Nigeria where he decided to adopt him as his son.
Flavour started making changes in his life and the impact was very visible to the public. Firstly, he featured him in a gospel song and the world was able to see more about the boy.
After that, he went ahead to help the boy produce 7 songs that made waves in the gospel industry in under 4 years.
5. Susan Peters.
Susan Peters, a Nollywood actress, adopted a baby boy named 'Oche' after four years of marriage to her Dutch husband with without a child. However, she is now divorced.
When you look at photos of Susan Peters and Oche, it's impossible to tell he's not her biological son. She looks after him as if he were her child, feeding him well and lavishing him with love and attention.
In August, Oche will become two years old.
6. Opeyemi Aiyeola
Opeyemi Aiyeola, a popular Yoruba actress, welcomed a daughter named Blessing into her family in January 2021, even though she and her husband already have two children, Samuel and David. Many people praised the actress for her decision to adopt blessing and prayed for her.
7. Obi Cubana
Nigerian businessman and celebrity Obi Cubana is the first man on our list. Obi has 5 children, all sons, and one day on his Instagram, he decided to open up a little bit more about his kids. He shared the below picture to Instagram writing:
King of boys!!! I have 4 amazing biological sons and a super amazing adopted 5th son! I love women, but God chose to give me all males!! Training 5 boys (soon to be men) ain't beans….so u see why I don't rest? Amazing boys with their different interesting ambitions!!
8) Rev. Esther Ajayi
Reverend Ajayi who had once met an orange seller known as Ayomide on the street was captivated by his angelic voice, so she took Ayomide with her and adopted him as her son. Ayomide is still with her, and the woman has once shared his Transformation on social media.
9) Anja Ringgren Loven
In 2016, Anja Ringgren Loven adopted a child that was abandoned on the street. She took the child home and named him hope. Hope was among the children that added to Anja's fame. For the past 5 years now, Anja and Hope are still together and Hope is now in school.