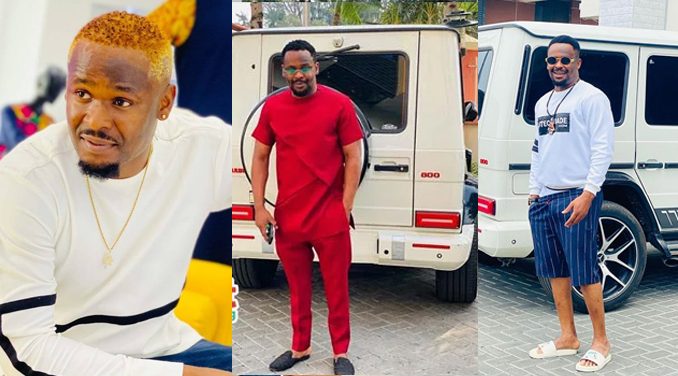 In this article we will be talking about Nollywood Actor Zubby Michael Net Worth, Age, Biography, Cars, movies And Houses in 2023.
Zubby Michael is not a foreign name in the Nigerian Entertainment Industry in recent years. If you are a fan of Nollywood home videos, his face will ring a bell to you once you come across it because of his permanent birthmark on his face. Zubby Michael is a Nigerian actor and movie producer in the Nigerian entertainment industry today.
Real name Azubuike Michael Egwu
Date of birth 1 February 1985
Country of Origin Federal Republic of Nigeria
Nickname Zubby Michael
Occupation Film actor
Net worth $9.6 million
Relationship Single
Education Nnamdi Azikiwe University
Zubby Michael was born Azubuike Michael Egwu, but he is now known professionally as Zubby Michael. Zubby was born on the 1st of February 1985 in Ekwusigo LGA, Anambra State, Nigeria. He grew up in Adamawa State, Nigeria, where he had his primary and secondary school education respectively. Zubby then proceeded to obtain his Bachelor's degree in Mass Communication from Nnamdi Azikwe University, Enugu State.
Mr. Zubby started acting at the age of 8 years, but he starred in his first movie, 'missing rib' after he completed his first degree and returned to Yola, Adamawa State. He had his first big break into the Nollywood industry happened in 2006, when he starred in the movie titled 'The three widows' as a lead role alongside Oge Okoye. After the movie in 2006, he became a popular face and went on to act in many other Nigerian home videos like 'Princess Rihanna', 'Implication', 'The Generals', 'Royal storm', 'The killer', 'Stolen love', and many other movies over the years.
Zubby Michael movies
He has been nominated for several awards and has won some awards also. On the 25th of November 2019, he was appointed as the Special Adviser on media to Willie Obiano, the Executive Governor of Anambra State.
He is currently single, and he has a son who he keeps out of the public's eye. Zubby Michael was involved in a relationship with Mary Okoye for some years. Mary Okoye is the junior sister of Paul and Peter Okoye (Psqaure duo). Zubby Michael and Mary Okoye called in quits when the actor revealed that they ended things because she was ready to settle down, while he was not up for that commitment at the time they broke up. According to him, he has a lot of things he intends to achieve in the future, so watch out.
Zubby Michael's Net worth
Zubby Michael is not only an actor, he is a movie producer in Nollywood. He has also delved into politics by accepting his appointment as the Special Adviser on Media to Willie Obiano in Anambra State. All these occupations earn him his recognition as one of the highest-paid and most influential actors in Nigeria, especially in the Eastern parts of Nigeria. He has an estimated net worth of about $9.6 million.
Zubby Michael Cars
He is young and getting it, so he has the capabilities to afford any car which seems affordable to him. Not only is he an actor, but he is a Politician and sometimes he has to look the part.
Zubby Michael biography, Net worth, Cars and House in 2020
After Zubby Michael was shot into the limelight in 2006, the first car he copped for himself was a Toyota Camry. But, over the years as he has continued to grow in the industry, so has his style and love for cars.
The actor Zubby Michael is associated with about four luxury cars, and they are:
A Mercedes-Benz 4matic.
A Range Rover Sport.
A Mercedes-Benz G-Wagon
Zubby Michael Houses
In 2018, Zubby Michael built a mansion in Asaba, Delta State worth hundreds of millions.
In 2020, Zubby Michael acquired a new house costing over N60 million in total. The house is located in Festac, Lagos, Nigeria.

Who is Zubby Michael twin brother?
Chris Egwu and Stanley Egwu
Is Zubby Michael A graduate?
Zubby grew up in Adamawa where he completed his elementary education. He attended Nnamdi Azikiwe University where he obtained a degree in Mass Communication.
Who is Zubby Michael Net Worth?
The actor is among the most popular and best actors in the Film Industry. Zubby Michael's net worth is estimated at around $9.6 million, making him one of the richest actors in Nigeria.
How old was Zubby Michael when he started acting movie?
He started acting in Yola, Adamawa State when he was about eight years old; Zubby Michael made the skills professional when he finally joined the Nigerian movie industry, otherwise known as Nollywood, in 2006.
Thank you for taking the time to read Zubby Michael's Full Biography And Net Worth, which includes her Date Of Birth, State Of Origin, Marriage, Children, House, Cars, Educational Background, Qualifications, Childhood, History, Wikipedia, Bio, Siblings, and much more.
If you have any further information regarding The Full Biography And Profile Of Zubby Michael, please contact us via the comment box below or by our email address on the contact us page.
There is love in sharing, Share this post with your Friends