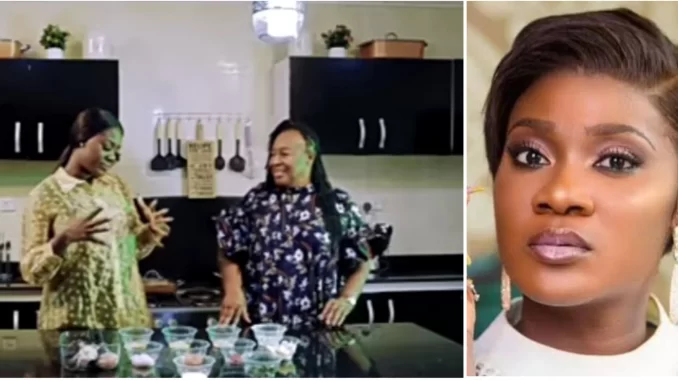 Ace Nollywood actress Mercy Johnson has revealed that famous actress Patience Ozokwor advised her years ago to avoid indecent dressing.
During her chat with the veteran actress on this week's edition of her weekly cook show, Mercy's Menu, the veteran actress recounted how she advised her to quit indecent dressing for her children's sake.
Madam Patience said:
"Do you remember when you were younger before you got married and I told you that the photos you take today, your children will see them tomorrow, and the kind of lifestyle you lived?"
And Mercy Johnson acknowledged the statement, saying, "Yes you did, you told me, Mercy, dress properly; you will have kids, and when they grow up, they will ask you, "Why are you looking this way?" Yes, I remember; I'm lucky, but I still learned the hard way, really.
WATCH VIDEO 👇
Recall that Patience Ozokwo  revealed why she not to remarry after the death of her former husband.
The aged actress made this known during an interview with Mercy Johnson on her cooking show, Mercy's Kitchen.
Mercy Johnson asked Patience Ozokwo: "You are a mom, you are married, you lost your husband. How was that like, plus, why did you never remarry? Because we have many women particularly online asking. They say "I can't do this, I can't do that, it's a taboo, I have to remain this way". Was that a personal decision for you and if you wanted to, would you have, and why didn't you?" Patience Ozokwo replied saying:
PATIENCE OZOKWO: I actually wanted to re-marry but it was too late because my children were already grown and they pleaded with me and said "we know why you want to re-marry but we want to ask you to please stay for us, we are going to be your husband that will take good care of you. Because we are all grown, so that our friends will not laugh at us that at our age, our mother had to go and re-marry". It looks like they were selfish, but I understood why they did it. And it worked fine for me. So I decided not to re-marry. It is a huge sacrifice, but there is no sacrifice too huge for the family.