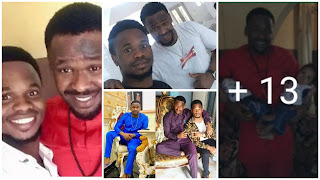 The Truth About Zubby Michael's Twin Children And Twin Brother.   Zubby Michael is a Nollywood actor and film producer. He is widely known for his role in "The Three Widows" and "Royal Storm".
Zubby Michael began his acting career at quite a young age, and he is popular for starring in English movies. In addition, he is a model.
Zubby Michael has gained reputation for his portrayal of "bad boy" characters in Nollywood movies. Zubby Michael was appointed in 2019 as a special adviser on media to the Governor of Anambra State. Zubby is also a recipient of several awards. He bagged a BSc degree in Mass Communication from Nnamdi Azikwe University, Anambra State.
The Nigerian Actor, Zubby Michael is one of the popular actors in the Nigerian film industry. He is a very good actor who knows how to play his roles well, that is why many of his fans love him. Zubby Michael is also one who doesn't flaunt his family and personal lives on social media.
Sometimes ago, pictures of Zubby Michael carrying a set of twin children went viral on the internet. A lot of people speculated there were his children. However, the truth is the twin children are his younger sister's. See pictures of his sister, her twin children, and husband below.
In another viral post, was a picture of Zubby Michael with a guy who shared a striking resemblance with the actor. Again, many people were quick to conclude that the other guy is his twin brother. However, the second guy is his your brother who is a footballer, although he can quickly be mistaken for his twin.