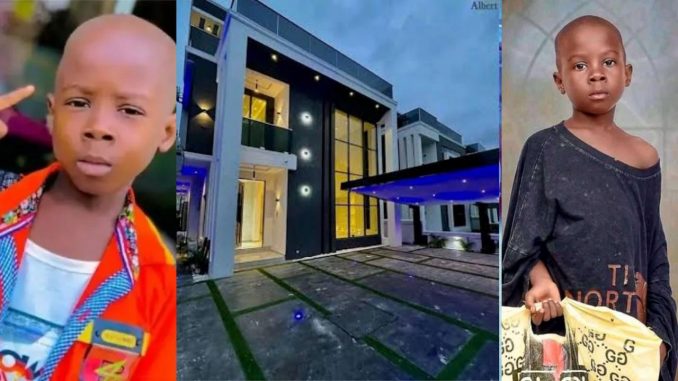 In a time where almost every young person is a content creator, TikToker, or skit maker, some people have managed to single themselves out from the crowd with their unique niche.
The social media world is an open space where people can show off their talents and skills, all in a bid to make people laugh. Some are successful, but many are hit-and-miss attempts. Nevertheless, social media streets are open to all, so why not showcase what you have.
With so many skit makers available, especially in Nigeria, and so many new names popping up now and then, another new name has been thrown into the mix, and this skit maker has made a name for himself.
Interestingly, comedy skits have nothing to do with age or qualifications, as long as you have the "making people laugh" factor. And the comedian we're talking about has got that factor. In this article, we will look at the story of Kiriku.
Born on the 17th of December, 2014, Enorense Victory is a rising young comedian and skit maker from Benin City, Edo State in, Nigeria. Although Victory, popularly known as Kiriku, is just seven years old, he has over 1 million followers on Instagram and over 100,000 subscribers on YouTube. But where did it all begin for this young comedian?
Before Kiriku ventured into skit making, he attained his primary school education and certificate in his hometown. However, with his huge success, his focus is majorly on his career.
But before we got to see Kiriku in the spotlight, the young comedian began acting in skits when he was four years old. He took part in street competitions which were usually held to showcase the talents of young people.
And ever since, he has released several comedy skits. But Kiriku was brought into the spotlight after popular blogger Tunde Ednut posted one of his skits on his verified Instagram page in 2021. The skit got the young comedian a lot of followers on Instagram, as well as a lot of subscribers on YouTube.
As a young Nigerian comedian, Kiriku's comedy reflects the street life as a street kid and a blend of other crazy topics that he has carved out as his niche but does the trick of making his audience laugh. He is also quite notable for his comedic signature in his comedy "Abeg Shift".
But what amazes his millions of followers is how well a child his age can articulate himself in pidgin English, which makes his acts much more interesting to watch.
It was said that the young skit maker had to convince his parents to allow him to become a full-time comedian, and so far, he is doing great. At such a young age and within record time, Kiriku has performed in various comedy events and performances.
He has worked with many other prominent comedians and skit makers throughout his career, such as Sabinus, The Cute Abiola, MC Koko, Pencil D Comedian, and many other famous skit makers. Even though he has been in the spotlight for a short while, Kiriku is known and appreciated for the boldness that he displays in his skits.
Interestingly, Kiriku has an older brother, Destiny Enorense, who is also a comedian and skit maker. However, Destiny, known as De UmbrellaBoy, started his comedy career way before Kiriku did, and the 7-year-old skit maker was best known for his roles in his brother's comedy.
With numerous comedy skits to his name and his growing fame and fanbase, it is no surprise that Kiriku has bagged several endorsements that are reeling in the big bucks. Currently, the young skit maker has endorsement deals and is a brand ambassador with DPrince Builders, a real estate company, Homewin NG, and Pu Exchange, along with his brother.
As part of his achievements, Kiriku recently won an award for being the "Breakout Social Content Creator of the Year", and he also recently made his first music video appearance in a song titled "I'm a Boy" by Jesuiskobo.
With Kiriku now a household name, with several successful skits that garner millions of views, and after making a name for himself in the entertainment industry, Kiriku boasts a net worth of over $50,000.
Recently, the popular kid comedian expressed his gratitude to God for the blessings upon his life after posting on his Twitter page to celebrate acquiring two black 2011 Mercedes Benz C300, which are said to be worth about 15 million naira each.
The young comedian is also said to have a house that was gifted to him by a supporter. Not much is known about this young comedian's lifestyle, but he has been seen enjoying a boat cruise with his brother and manager, Umbrella Boy, in expensive outfits. And with a net worth of over $50,000, safe to say he can afford whatever he likes.
Kiriku is surely making waves and making a name for himself in the entertainment industry. Interestingly, he is treading the path laid out by previous child comedians, like Emmanuella of Mark Angel Comedy.
However, Kiriku, like most famous comedians, has carved his niche, especially at such a young age. And with his talent, endorsements, and growing net worth, it looks like he will be on a roll for a long time.