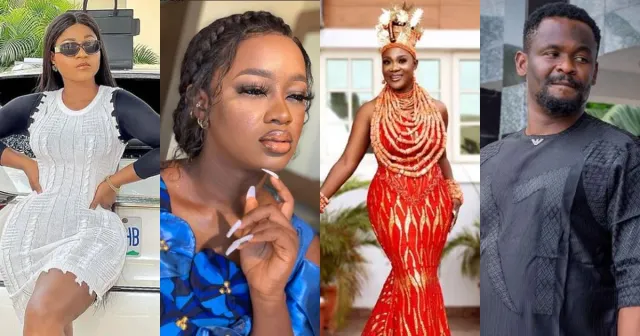 In today's world, we see a lot of youths out there thriving day and night for the betterment of their future, while some in a bid to attain great heights have tolled the wrong path, others are still keen on creating wealth through a legitimate and publicly endorsed manner. The Nigerian movie industry has undeniably been an employer and appreciator of talents that wouldn't have been seen if the movie industry was extinct. Today, we see numerous actresses and actors making it big in Nollywood, most of which are generally loved and appreciated largely because of what they have to offer to society. However, as we all know, we live in an ever-changing world and there are bound to be recent offshoots from time to time. Actors reign and subsequently make way for the future generation, and a time will also come when this future generation will also make way for others.
Needless to say, Nigeria as a country is blessed with so many talents; majority are yet to be tapped and utilized effectively. While we have various movie stars gracing our screens with mind-blowing content, there are youths out there who can do better, but maybe, they haven't gotten the chance or support they require. Therefore, in an effort to solve this problem of difficulty in recognition, I have come out with step by step ways that any Nigerian could adopt in order to sit with kings in the Nigerian movie industry. Let us examine salient ways to become a successful Nollywood star.
Ways to become a Nollywood star
First, Build your portfolio: this should be the very first step any individual who is dreaming to attain stardom in Nollywood should take. What is a portfolio? In simple terms, a portfolio is a selection of an individual's work compiled over a period of time and used for assessing performance or progress. Like one who intends to become a highly-rated movie star, your portfolio should consist of anything relating to acting you have ever involved yourself in. Remember, no performance is too little. Make sure you fill your portfolio with all your works and don't toss aside any tiny detail because you would never know what may interest a producer when you finally meet one. Also, remember to update your portfolio regularly, for it to reflect your latest milestones and successes. Make sure your portfolio is presentable and appealing because this is what will speak to your Boss in your absence.
Second, Do not miss auditions: if you wish to rise to the limelight through acting, you should never shy away from auditions. Auditions are the practical aspect in the quest to attain great heights. At auditions, you get the opportunity to display your talent and peradventure you impress the producer, director or any other person in charge, you have a great chance of being picked. Nevertheless, if you have attended auditions and still didn't get picked, don't be deterred, rather continue pushing and remember to build relationships whenever you go for an audition. These connections may be the key to your success in the nearest future. As an aspiring movie star, you should be ever ready to showcase your talent at any given time.
Third, Frequently make and upload skits online: all thanks to the modern age we've found ourselves, which has made things easier and faster. With the aid of the social media space, you can reach an appreciable number of people, especially if you have an active audience. Therefore, while waiting for luck to shine on you someday, get yourself busy by making various skits and subsequently sharing them on your social media handles. These skits may be stumbled upon by a producer and if it was well-acted, no doubt, you are made. Not only are skits instruments for selling yourself to the world as an actor, they also help to keep you busy and discourage joblessness, thereby keeping the acting spirit alive.
Fourth, Enroll in a talent agency: as an aspiring movie star, it is necessary that you enlist yourself in a talent agency as it comes with stupendous benefits. A talent agency can speedily link you up with various producers and directors who are about to work or are already working on a project. A talent agency will provide you with first-hand opportunities/pieces of information as regards auditions. Talent agencies are made up of skilled individuals, some of which are veterans in movie making; therefore, they have good connections which can be of great benefit to a rising star. Lagos State, Nigeria is said to be a hub for talent agencies, owing to the fact that most celebrities reside and conduct their activities there.
Fifth, Emulate your idol: While waiting for the wind of success to blow on you, any aspiring actor should have at least one top-notch or highly-rated movie star he or she appreciates and idolizes. If you don't, carefully look for an actor whose style and energy cohere with yours, and carefully study the person's works. Follow him or her on social media and watch how the movie star acts, try to emulate the goods you see in this role model of yours. Constantly studying an actor's style can give you a hint on what producers actually want from actors, especially if this your on-screen role model is currently the talk of the town.
Sixth, Constantly reach out to movie producers and directors; again, social media has made this so easy and simpler for most individuals aspiring to make a name in Nollywood. Simply follow these producers on social media and frequently send them messages either via emails or their social platforms. One may ask how he or she would get contacts of producers? The answer is simple. Follow a lot of Nollywood celebrities on social media, most of them during movie production make random posts while tagging the handles of these producers. Be on alert and grab one immediately you see it. No doubt, a renowned producer may not reply to you immediately, but perseverance is the key here. As you continue to bombard their DMs, something positive may surface.
In conclusion, Nollywood has proven to be a constant employer of labour in Nigeria and this is so because a movie can require over 10-15 actors to become a success. Untapped talents are abundant in Nigeria, and we hope that these talents would never go to waste, this is why I have painstakingly outlined some ways for an individual to become a Nollywood star. I believe that if these steps are carefully followed by some aspiring Nollywood stars, the sky would only be their starting point.
Please don't hesitate to contribute your quota to this article by expressing yourself in the comment box.