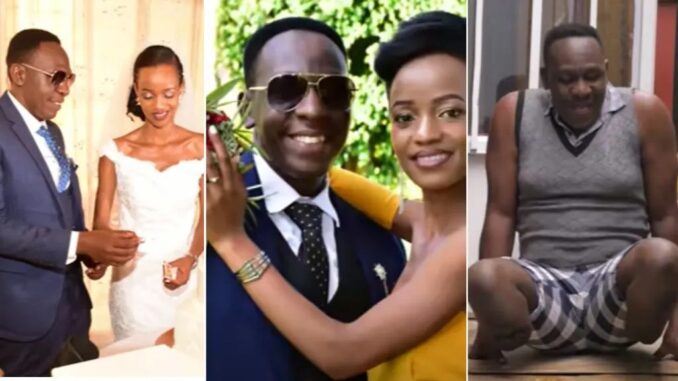 pretty lady finds out after wedding that her husband has no legs
A man known as Jado has reportedly kept a significant part of his personality hidden from his fiancée until the day of their wedding. When he was young, a bomb explosion cost him his legs.
According to the trending story, Jado was disabled of his both legs to amputation but he did not inform his lover named Borah to find out as he walked around with artificial legs.
After their wedding, Borah found out the truth as there was no way for the man to hide it anymore.
IMPORTANT: You can now Click "HERE" to receive Entertainment gists directly on your WhatsApp!
Revealing in a video shared via Youtube, Jado revealed that he hid the truth from his woman because of the fear of losing the love of his life if he had let the cat out of bag.
However, even after finding out the whole truth after their nuptials, the girl has refused to leave her husband as she has continued to love him.
Social media users got emotional with the love story of the beautiful couple as they took to comment section.
Watch the sweet video of the couple:
Some reactions are shown below:
The Dogmother said, "Who would judge such lovely people? No one worthy. Deborah is gorgeous. What a beautiful woman."
Nandanie R said, "I am glad she didn't leave him after knowing the truth about him,but I think he should have told her the truth from the beginning.I hope they have a happy married life.They are a beautiful couple."
Rejoice Smelton said, "So inspiring ♥️…I believe Deborah is a God sent wife.Keep on shining guys, love is not all about having all body parts but what matters is having good hearts. May God bless ur union."
Race To Heaven said, "That woman is a real wife. I love her conviction to loving the man she got to know afterward. She's just a woman that every man needs in the house. God bless her so much".