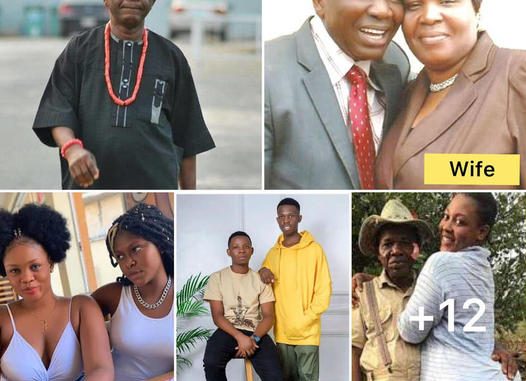 Not every celebrity loves sharing pictures of his or her family members on social media. Chiwetalu Agu is one of the movie stars that have managed to keep his family affairs private. In this article, I will be sharing with you lovely pictures of Nollywood comic actor Chiwetalu Agu, his beautiful wife and lovely children.
Many movie lovers haven't seen the wife and children of Chiwetalu Agu. This is because he is not known for sharing pictures of his family members on social media. Chiwetalu Agu is blessed with a beautiful wife and lovely children.
Chiwetalu Agu is a famous Nollywood comic actor, movie director, and producer. He hails from Udi Town in Enugu State in the south eastern part of Nigeria. The popular actor is known for playing funny characters in movies and his talents have earned him numerous movie awards and recognition.
Some of the awards he has won include Best Actor in a Supporting Role at Zulu African Film Academy Awards and many more. Some of his interesting movies are Ripples, My Sister's Pain, Royal Crisis, The Catechist, Old School, and many more. Chiwetalu Agu has inspired lots of fans and movie lovers. Do you think his children will take his footsteps?
Chiwetalu Agu popularly known as Ichie Ogwu is a legendary Nollywood actor, television personality and a comedian. He was born on 27th October, 1956 in Amokwe, Udi Town, Enugu State, Nigeria. He is currently 60 years old. He attended Municipal Council School Ogui Town, Saint Luke's Primary School Ogui Urban Area in Enugu, Nigeria. After his primary education, he went further to College of Immaculate Conception (CIC) Enugu & obtains his SSCE.
After his secondary education, he went to Miinchen College Enugu and obtains a diploma in Dramatics Arts. His acting career took off immediately in 1981 in an NTA drama where he played the role of Anikwu in Things Fall Apart. In 2002 he won the Best Actor of the Year Awards at the Africa Movie Academy Awards.
Chiwetalu Agu has acted in more than 200 movies which include Things Fall Apart, Ripples, The Catechist, Dr. Thomas, Old School, etc. He is currently married to Nkechi & has three sons & two daughters. He is always known for using slangs & funny phrase. In 2008, he was nominated for the best actor in a supporting role at the African Movie Academy Awards.
In 2011, he was nominated for best actor in a supporting role at Zulu African Film Academy Awards held in London. In 2012, he won the Nollywood awards for best actor in indigenous movie (non-English speaking language) for his role in Nkwocha. What amazes most watchers is how he combines his well-disciplined life with the wicked or devilish roles he acts in films.
His usage of specific language slang, phrases or clichés in film has made him uniquely a household name in Nigeria. Chiwetalu Agu is listed as one of the outstanding comedians who have contributed to the development of Nollywood comic genres. The evil role he plays in movies has affected him negatively as many people in real life think of him as a wicked person.