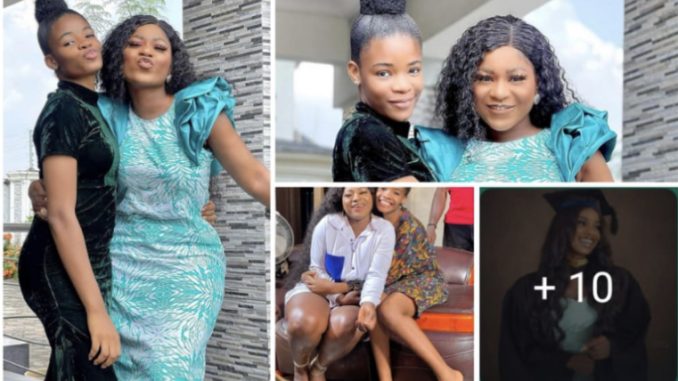 Born and raised in Udi village in Enugu state, the gorgeous and very talented Miss Destiny Etiko worked her way up the Nollywood industry to become a familiar name in many homes.
Having been raised by an actress, Destiny followed in her mothers footsteps and to date has featured in close to 100 Award-winning Nollywood films.
From an early age, Destiny made up her mind to never sacrifice or give up her career to raise a family or for a man. As a result, the actress lives a very private life with no engagement, husband or baby daddy scandals from her past. However, she has a beautiful daughter she adopted who shines bright like a diamond.
Destiny Etiko adopted daughter
Destiny Etiko's adopted daughter, Chinenye Eucharia came into the limelight following her unashamed display of love and admiration for the actress during one of the actress' visits to her locality.
Videos of their affectionate encounter circulated all over social media. Chinenye pleaded with Destiny to call her which made Destiny Etiko reach out to her and her family and eventually adopted her as she had won her heart over.
The young Chinenye Eucharia soon found herself with thousands of new followers on Instagram which only added to her popularity and Rise to fame. From there, Chinenye Eucharia has been living the life of being gifted N200,000, to Destiny Etiko giving her a whole 360° turn of fate.
Destiny Etiko adopted daughter has been showered with unspeakable love and recently upgraded Chinenye's Tecno phone with an iPhone 11 Pro which made her bounce ecstatically on the bed on social media.
She introduced her into the Nollywood industry giving the young Chinenye a chance to act in an upcoming movie and shared a video recently, showing Chinenye rehearsing on set alongside others for the movie.
The love doesn't stop there, early in 2022 the kind-hearted actress got the young girl emotional after she showed up at her hotel room with a beautiful cake and a man who played a birthday tune on a trumpet which was so lovely.
Chinenye looks up to Destiny Etiko as a role model. Miss Destiny on the other hand is very good at what she does, this quality will definitely rub off on her adopted daughter.
Destiny Etiko will show her the ropes while introducing her to other big names in the industry which will increase her chances of succeeding in life.
Clearly, there is so much more to expect from Chineye as she is definitely reaching higher heights with the amazing guidance and love from her adoptive mother.
For Destiny Etiko's daughter, the world is ready to see her on our screens and of course, shining on the red carpet as that's exactly every she is headed. Truth be told, she may shock the world with her talent and skills exceeding the Nollywood industry and bringing home Grammy or Oscar Awards.