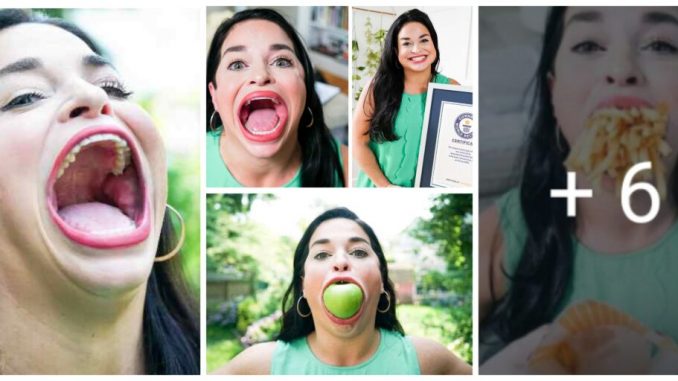 The 31-year-old Connecticut resident is every dentist's dream. With a larger-than-life mouth that stretches at a massive 6.52 cm, she's been confirmed for having the world's widest mouth gape (female) after going viral on TikTok for her sizeable jaw.
According to Sam, "the children of TikTok" were convinced she had a world record mouth after seeing her stretch it in one of her videos and encouraged her to go after the record.
Although many online users were certain she had the record, there was only one way to verify it officially.
So recently we met Sam in her local dentist's office in South Norwalk, Connecticut, USA with an official adjudicator present to measure her gape for the Guinness World Records title.
Dr. Elke Cheung used digital calipers to calculate the length and width of Sam's mouth to determine its maximum stretch.
Largest-mouth-gape-record-holder-sam-ramsdell-has-mouth-gape-measured-by-dentist
After taking all measurements, adjudicator Spencer Cammarano averaged the data to confirm the final record-breaking total.
"Being 31 and being able to get a record for something that really I was so insecure about, something that I wanted to keep so small, it's great because now it's like one of the , best things about me."
From a very young age, Sam always knew she had a big mouth – her giant smile is clearly visible in all of her childhood photographs!
Since no one in her family had a mouth quite as large as hers, eventually it became a characteristic unique to who she was.
Growing up, she was often bullied and made fun of by other kids, being called "big bass mouth" among other names.
But after time, her mouth became a quality about herself she learned to love and accept, and now she hopes she can inspire others to embrace the parts of themselves that make true individuals.
"If I had advice for anyone who had a large body part, or something really unique, and they wanted to go for the Guinness World Records title, I would say do it! Do it proud and make it your biggest asset. It's your superpower, it is thing that makes you special and different from everyone else walking around."
So how big is Sam's mouth really? Well, we compared some everyday objects to her enormous gape, and discovered she can nearly fit an entire green apple in her mouth, can fully bite through four-single stacked cheeseburgers, and can fit an entire large sized French fries in her mouth!
One of the places you can see some of her foodie feats is on her TikTok account, which she started last year during the pandemic as a means of finding a creative outlet.
"At first, I was like, well… am I too old to be on TikTok? But it was the one thing I could do right now to keep me busy and keep me creative, so I started doing some singing, some of my comedy stuff, and I did one comedy video where I made this crazy face, and the children of TikTok were like, 'what happened to your face?!'"
In the beginning, Sam was trying to find her style of content. But as she revealed her big mouth, her account took off as she worked that into her videos – and now she proudly has 1.7 million followers!
Sam has even dueted videos on TikTok with Isaac Johnson, who holds the male version of her title.
Now Sam's gape has become a regular part of her TikTok skits, a platform she uses to pursue her ambition to become a performer and comedian.
"My mouth has set me apart from the other millions of comedians, singers and all these other creators. I never thought it would be possible to be this famous off my mouth, but it's incredible. It's really really cool."
She hopes one day to have her own show and utilize her humor, wit and singing as part of her routine.
"You know getting a Guinness World Records title, it's finally being almost able to show some of the bullies or people who doubted me, or tormented me, that hey – I have a big mouth but at least I have the biggest one in the world!"