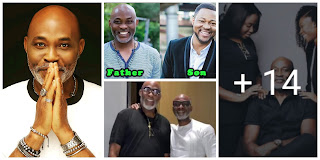 His first son is a carbon copy.
Towards the end of the 1990s, a budding new actor named Richard Mofe-Damijo burst unto the scene. Years later, he has grown to become one of the most prolific and beloved actors in Nollywood. Ove the span of his lengthy career, he has starred in blockbuster movies including Hostages, Diamond Ring, Out of Bounds, The Wedding Party, Chief Daddy, 30 Days in Atlanta, and most recently on Netflix, Namaste Wahala.
As prolific and public as RMD is, his family has managed to successfully stay out of the limelight for the most part. None of his children have gone into the entertainment industry especially Nollywood yet and not much is known about any of his children.
Well, Richard Mofe-Damijo is a proud father of 5 children – Three sons and Two Daughters.
Are you ready to meet all 5 of his kids? Then let's go!
Kome
Kome Mofe-Damijo is RMD's son who popularly got married in a very lavish ceremony in 2013 at the Household of God Church, Oregun, Ikeja.
According to Bella Naija Weddings, he and his wife Eniola met about 14 years ago prior to their wedding at Sunday school and remained friends over the years. Although they did not start a relationship until 2011, Kome tried to woo her when he was about 17, but Eniola's dad shut him down and told him to focus on his studies.
After many years apart and out of the country, social media brought them together again. Kome started his chase again while Eniola was working in Manchester,U.K.,and after many failed attempts,and trips to and from Winnipeg,Canada, he was able to convince Eniola to give him a chance in 2011 … the rest they say is history. He asked his Sunday School sweetheart to be his, and she gladly accepted the man of her dreams, the sweetheart of her youth.
As for the proposal, She had gone visiting in Canada for summer. She and Kome had gone for dinner on the night she was to return to the UK and just before she was about to board her flight, He got down on one knee and popped the question, of course she said Yes!
The wedding was attended by all and sundry including big Nollywood names. The two have gone on to be blessed with beautiful children.
Nichole
Nichole is RMD's first daughter. She famously attended the Obama Foundation Summit where she was handpicked by Barack Obama himself for a 10 minute meeting to talk about her life and work. As you can expect, RMD took to social media to celebrate this achievement of hers writing:
See whose daughter @msyembra met the King of Cool @barackobama at the @ObamaFoundation summit. Daddy's proud of you! To think this is just the beginning of your journey of many conquests to come"
Tega
RMD's younger son, Tega, is the Instagram socialite of the family. He constantly uploads very swavvy pictures on his social media and is definitely the 'phone-presser' of the family.
His Youngest Daughter
While RMD has posted many pictures of his youngest daughter celebrating her and just out and about town with her, he has made it a point to never say her name or tag her in any of the pictures in a bid I reckon to protect her privacy.
He does say this daughter says that she is his clone and when she graduated from high school, he took out time to write her a long note message celebrating her on social media.
His Fifth
While numerous reports from numerous blogs and journalists have reported that RMD has 5 children – 1 with his first wife, May and 4 with his current wife Jumobi, not much is known about the fifth child.
What we do know is that RMD is a grandfather as well and has time and time again taken to social media to show off his very adorable grandkids.
RMD has lived a really full life and it's so good to see he and his children happy and thriving. How wonderful!
That's All.