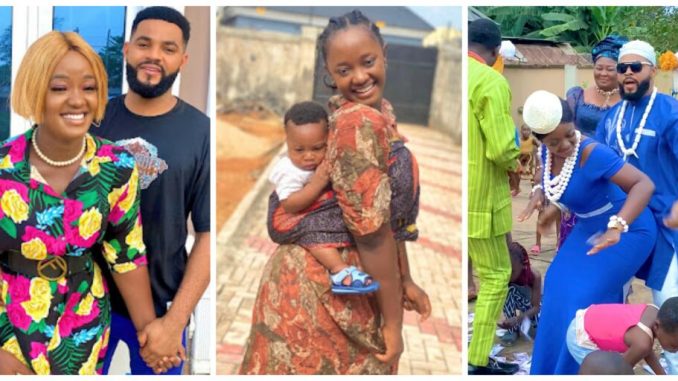 Luchy Donalds is a Nigerian actress who is well known in the industry; she shares a resemblance with Ghanian movie star Jackie Appiah.
Recent Luchy Donalds was in the news after she shared photos of her holding some designer bags, which sparked reactions on social media.
In a recent statement, Luchy Donald has lashed out at the said celebrity as she stressed that noted that the actress who reacted to her designer bag had undergone different surgeries to arrive at her curvy stature while alleging to be naturally blessed.
Profile summary
Born      May 28, 1991
Age        30 years old
Gender Female
Nationality    Nigerian, Owerri, Imo State
Education      Bachelor's Degree in Microbiology, Tansian University Umunya, Anambra State
Height           5″5 feet tall.
Alma mater    Tansian University, Umunya, Anambra State
Occupation     Actress, TV personality
Years active    2006 – date
Biography
She was born May 28, 1991, in Emi Owerri, the capital city of Imo State. Her parents are Mr. and Mrs. Donald Nwocha. She is the only daughter and the first of three children, of which two are boys. Because of their resemblance, Luchy Donalds has been described by her fans as the sister of the Canadian-born Ghanaian Actress Jackie Appiah.
Luchy Donalds' childhood
Luchy Donalds was born and raised in Owerri, the Imo State capital. She is the first of three children – two boys and a girl. Luchy Donalds is the only female child of her parents. She has revealed in a past interview that she grew up under strict parenting, especially from her dad who was a strict disciplinarian.
Education
Luchy Donalds attended Mount Camel Premier School for her primary and secondary education.
She proceeded to Madonna University located in Okija, Anambra State, for her tertiary education.
Luchy Donalds, however, spent just one year at Madonna before transferring to Tansian University in Umunya, in same Anambra State, where she finally completed her degree. She attended Tansian University, Umunya, Anambra State for her tertiary education where she earned a Bachelor's Degree in microbiology.
Career
Luchy Donalds joined Nollywood in 2006 and has featured in various movies. Her first movie The Investigator which was a debut brought her into the limelight in 2014, subsequently, she acted in several movies with Nollywood actors in the Nigerian Film Industry
Luchy Donalds has featured in over 200 movies since she started acting. She has acted with almost all the big name in the Asaba – Enugu Nollywood movie industry such as Ken Erics, Destiny Etiko, Uju Okoli, Jerry Williams, Ngozi Ezeonu, Onny Michael, Frederick Leonard, Flashboy Stephen Odimgbe, Ebele Okaro Onyiuke, Zubby Michael, among others.
Endorsement
The company Univasal Services signed an ambassadorial arrangement with Luchy Donalds on May 17, 2021. She is the first brand ambassador of this company.
Personal Life
Luchy Donalds is not married, but it is unknown if she is in a relationship as she has kept her private life away from the media.
Net Worth
Luchy Donalds is reportedly worth $300,000 and continues to be a popular name in the movie industry to date.
Luchy Donalds on Social Media
Luchy Donalds is active on social media. Her Instagram handle is @luchydonalds. Her Twitter handle is @luchydonald.