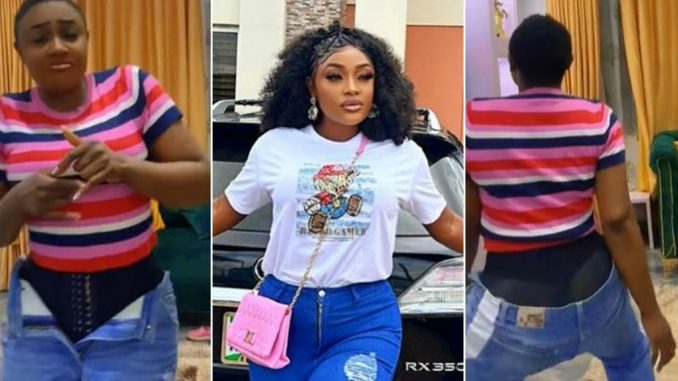 Renowned Nollywood actress, Lizzy Gold has reacted to claims about her wearing hip pads to give netizens an impression that she has a big butt.
Taking to her TikTok handle, the movie star quashed the claim, affirming that she doesn't wear such things.
Lizzy Gold subsequently stated that she only wears body shaper which is just a light outfit.
On the mystery behind her increasing backside, Lizzy Gold noted that she recently added weight and has started growing a bigger bum lately.
Sharing the video, she wrote:
"This video is for those people saying i wear hip and ass pad ..i dont wear those things ..i added little weight plus i always wear body shapper as you can see in the video…body shaper helps to shapen your body …body shaper has no pad in it ..its just a light outfit that shapens the body …so stop been ignorant.would show you guys my bikini body sonnest😜😜😜 lizzygold now has bumbum oooo."
Reacting to the clip, One Elegant Mills wrote: "No need to explain yourself. Do what pleases you🥰"
Angela Dooshima wrote: "Leave us alone😂nah so amebo Dey our eyes my favorite❤️❤️"
Ugochi wrote:  "you go explain tire…. just do you my dear"
Zazy Linger wrote: "am i the only one who is in love with her eyes 🥰🥰"
qwin mode20003 wrote: "pipo will always talk sweetie 🥰🥰"
Animah Jozzy wrote:  "show them dear 😘 ❤ do what you like let them talk its your life love you my mentor ❤ keep it up 🥰🥰"
AmberRose wrote: "one million will always be one million no matter hw much one thousand hates…i love u so very much lizzy Gold and wish to meet u someday."