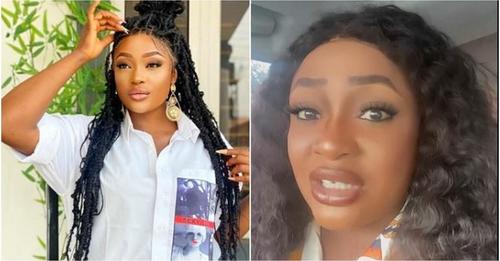 Nollywood actress, Lizzy Gold cries out after her housekeeper identified as Success absconded with her 1000 euros (over N450K).
The mother of two took to her Instagram stories a few hours ago to narrate how it occurred. According to her, the lady had told her she wanted to travel to Aba the next day and she granted her wish but urged her to do some necessary house jobs before leaving.
Lizzy Gold however revealed that while filming, she placed a call at home to know her things were going only for her 2nd housegirl to tell her that Success has travelled.
The screen diva further disclosed that upon arriving at her home, stepped into her bedroom only to see her clothes littered on the floor and the 1000 euros gone.
Bemoaning the act, she asked why a domestic staff she provides for would steal from her. The actress revealed that she contacted the girl's family and they said she didn't steal the money.
Lizzy Gold added that she has involved the police in Aba to help track her down and they are currently on it.
Watch the clips below:
PART 1
PART 2
PART 3