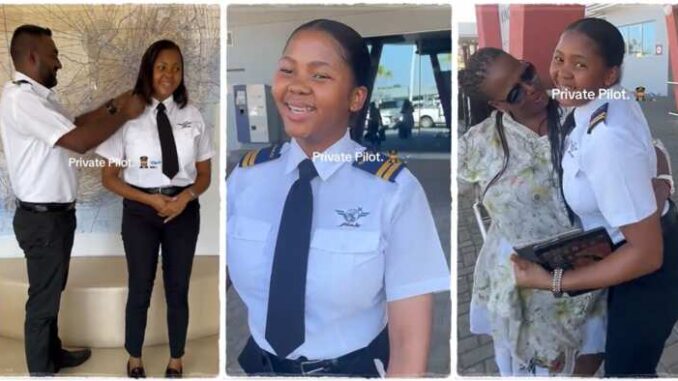 A lady has successfully become the first person in her family to qualify as a pilot.
In a heartwarming video posted by @ngcwelekazimakuleni, the lady showed when she finished her training and graduated from a flying school.
Ngcwelekazi was clutching a beautiful bouquet handed to her by her family to celebrate her graduation.
Lady celebrates graduating as a pilot
She was all smiles and happiness as she was decorated as a certified private pilot.
Ngcwelekazi revealed in the video that she was the first person in her family to become a pilot.
She captioned the video:
"First Pilot of the family… GRATEFUL."
TikTok users took to the video's comment section to shower her with many congratulatory messages.
Watch the video below:
TikTok users congratulate lady who became a pilot
@lokomelanin said:
"I'm proud of her without even knowing her."
@Hallebberry commented:
"Beauty and the brains and that's on our queen. Many safe and happy flights."
@Hlobisa Shongwe commented:
"You are so shy, it's so cute."
@thandobongiwensel said:
"Black excellence. Proud of you sis."
@kairodeevanchiey said:
"Good example to all ladies out there."
@asimbonge onomusa said:
"Congratulations. Future pilots let's gather here."
@Pillow said
"You just made your mom proud, darling. It's every parent's dream to see their own prosper."
@NoM commented:
"I've never been more proud of someone I do not even know. Congratulations you're a star."
@Kachi reacted:
"When I grow up, I want to be a pilot. Do you still remember? Congratulations to you."