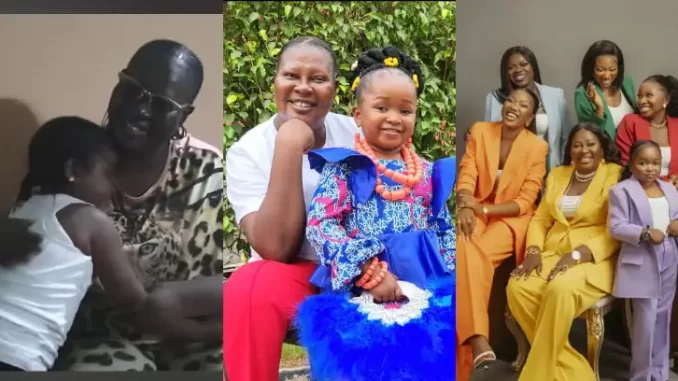 Nollywood actress, Ebube Obi is a talented teenager who became a mainstay in the movie industry in 2021 after she was discovered by her adopted mother, Uche Nancy.
Just as we've had the popular Aki and Pawpaw from previous generations, Ebube is tipped to storm the Nollywood scene as one of the finest diminutive actors and she's found a perfect model in producer, Uche Nancy who has recorded multiple successes in the movie industry.
Who Is Uche Nancy?
Uche Nancy is an award-winning Nollywood Costumier and filmmaker born on 2nd May and hails from Ufuma, Anambra state, South Eastern part of Nigeria.
She is the mother of 4 beautiful daughters with 2 of them, Sonia Uche and Chinenye Nnebe toeing her footsteps in the Nigerian entertainment industry as actresses. While the other two, Ijeoma and Jesinta are successful entrepreneurs.
Uche Nancy always celebrates her daughters on her social media pages by posting their photos with heartwarming captions. One of her posts reads: "Just take a look at my beautiful daughters, the girls I'm proud of, the love of my life, I pray so hard in my next world to have you girls again."
Meet Her 4 Daughters
Uche Nancy's daughters are Sonia Uche, Ijeoma Nnebe, Jacinta Nnebe, and Chinenye Nnebe. All four of them share a very close and cordial relationship with their mother. The family runs a reality show on YouTube dubbed Uche Nancy And Family
Know all about them below
Sonia Uche is the First Daughter of Uche Nancy
Sonia Ihuoma Uche is Uche Nancy's first daughter. The exact year she was born is unknown, but she celebrates her birthday every 25th May.
Sonia started her acting career fresh off in 100 at the University of Abuja. Sonia says she got into acting through an audition she saw on Facebook for aspiring actors. After she attended the audition, she luckily got a role to play in the movie, Complicated. However, she got her breakthrough as an actress with the 2022 movie Boss's Daughter, a film where she played the lead role as a spoilt daughter of a rich man.
Another movie that established Sonia Uche as an actress is Frank's Wife. In the film, she played the role of a naive village virgin girl who got married and was taken to the city but refused to sleep with her husband.
Sonie has over 10 movies under her belt since her debut in 2019.
Ijeoma Nnebe is Uche Nancy's

 

Second Daughter
Ijeoma Nnebe, commonly known as "Pretty Omah," is Uche Nancy's second daughter. She was born on 20th July 1994. She studied Mass Communication at Madonna University Okija, after which picked an interest in becoming an entrepreneur. Ijeoma Nnebe is a model and the CEO of Omah World, a unisex fashion outfit, and Omah World, which supplies her superstar sisters' wardrobes.
Ijeoma is married and never misses the chance to flaunt her husband to her 60k Instagram users.
 Uche Nancy's Third Daughter, Jesinta
Jesinta Chinanu Nnebe is Uche Nancy's third daughter and the least known in her family. She celebrates her birthday every 3rd of February, but her exact year of birth is not public knowledge. Just like her sister Ijeoma, Jesinta is also an entrepreneur who runs a fashion business. She owns a clothing brand dubbed Sunshine Collections.
Who Is Uche Nancy's Last Daughter, Chinenye Nnebe?
Born on April 5, 1997, Chinenye Nnebe is the last child but certainly not the least of Uche Nancy's four daughters. With the influence of her mom, Chinenye is an actress and model who has become a total mainstay in the Nigerian film industry.
She started as a child actress at the age of 3 in 2000 when her mother featured her in one of her movies.
Chinenye had her big break as a professional actress after she featured in the critically acclaimed 2015 Nollywood movie Dry. The movie earned her mom, Uche Nancy an award at the African Magic Viewers Choice Awards (AMVCA)for Best costumier in 2016.
Having been featured in more than 100 successful Nollywood movies, Chinenye Nebe has grown to become one of the most popular faces in the industry.
She has shared stages with star actors like Stephanie Linus, Liz Benson, Olu Jacobs,  Mike Ezuruonye, Regina Daniels, and Ini Edo, among others. In addition to acting, Chinenye is a model and brand ambassador and has worked with many notable brands in the country.
Is Uche Nancy Ebube Obio's Mother
Ebube Obio was just a girl with a dream in 2020 when she finished her Secondary school education in Anambra. But fate would lead her to Asaba where she met one of Nollywood's top producers who made her a household name in few years.
It all started in 2021 when Nollywood actress, Uche Nancy invited Ebube Obio to the set of one of her Youtube series, Pride of the Land.
According to Ebube, Uche Nancy soon developed a keen interest in her as she would get extra playful with the actress whenever on set and gave her major roles in movies. Uche surprised the diminutive actress with a Christmas Gift in 2021 – the gesture got Ebube teary and she called her parents to thank Uche on her behalf.
Uche Nancy has grown so fond of her adopted daughter, Ebube as evident on her social media pages littered with photos of them together.
You can watch many fond videos of Uche Nancy and Ebube on social media.
Below are quick facts about Obio Oluebube Cynthia you might find interesting as a fan:
Obio Oluebube was born on August 12, 2004, she celebrated her 18th birthday on August 12, 2022
Obio Oluebube hails from Okija, a small town in Ihiala Local Government area of Anambra state
She completed her secondary school education in Summer International School in 2020.
Cynthia is just 3ft tall, yet she sees herself as a giant. Can you beat that?
She began her Nollywood career in August 2020 with aspirations to have joined early but her education held a barrier
Her official Instagram handle is @Oluebube.obio