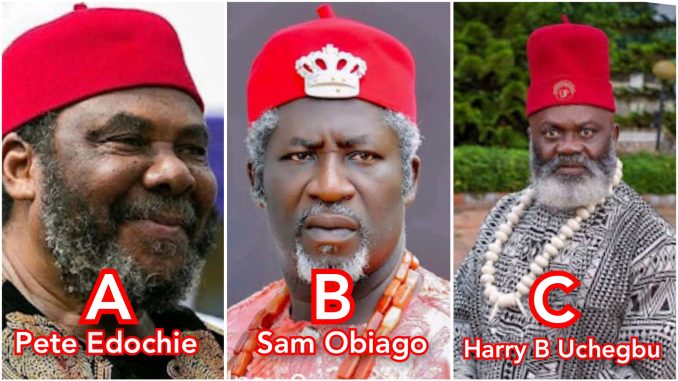 When it comes to Nollywood actors who plays King Role in movies this 8 actors stands out among the rest.
Kingship role in movies is always assigned to the best actors.The same applies the queen – ship role. Therefore, we have compiled the list of famous actor who is talented, able and suitable to play the kingship roles in movies.
We are throwing the question out to our readers ; to decider and choose the best actor that plays the kingship role better
Below are the their names, photos and movies.
Table of Contents
Pete Edochie
Don brymo uchegbu
Sam Obiago
Olu Jacobs
Clem ohameze
Ofili Ugbo
Harry B Uchegbu
Obi Okoli
Summary
Pete Edochie
Talented veteran nollywood actor Pete Edochie who was the lead role in the acting of chinua Achebe's popular book " things fall apart" in 1980s. Is considered the best actor in African history. Similarly, The Anambra born actor has received numerous awards and honor by African magic. Furthermore, in 2003 he was also honoured by President Olusegun Obasanjo. However, At his 50s he began acting as king in movies alongside his wife Rita Edochie, Patience Ozokwor, Ngozi Ezeonu, Kenneth Okonkwo and others. In conclusion, Pete is well known for his basic knowledge in literature, wisdom, dance moves and his hot temper in movies.
Below are some of the movies he acted as king.
Don brymo uchegbu
Among other kingship role players in nollywood, brymo has always been among the front runners. The talented potbellied television personality features mostly in epic and humorous movies. In addition, he is well known for the way he talks when angered. Don preferably acts alongside Destiny Etiko, Mike Godson, Ngozi Ezeonu and others. N the same vein, Brymo also acts as community elder, uncle and king maker in his movies. Below are some the movies he has featured as king.
Sam Obiago
Veteran and talented nollywood actor who plays the roles of king in his movies, is a successful movie writer. Also, he is a producer, director and actor. He prefers roles like king, Community chieftain, kingmaker, father and uncle. He has featured in most epic movies. Most importantly, the veteran Igbo actor is popularly known for his cute smile and meekness in movies. He is blessed with a beautiful gap teeth. Below are some monies he has featured in.
Olu Jacobs
Some days ago, the veteran actor was rumored dead on social media. Which his wife immediately debunked. OLU JACOB is a handsome, tall and dark nollywood Veteran Actor. Indeed kingship and royalty runs in his veins as he knows how to portray kingship in the highest level. Olu Jacobs mostly acts as king in all his movies. Therefore, Olu is among the very best nollywood actors who plays king role in movies. The Yoruba veteran actor has featured in international series during his prime and is considered one of the best. He acted alongside chinwetalu agu, Ngozi Ezeonu, Ken Erics Ugo, gentle Jack etc. He is known for his sense of judgment.
Clem ohameze
multiple talented handsome Veteran actor has played kingship roles in numerous Nollywood movies. The film director, entrepreneur, producer and actor is a firm Rivers state Nigeria. He started his career in 1995 in the the popular movie "END TIME". The actor who plays kingship roles in most of his movies also likes acting as a ritu*list and dr*g- barron. He has played alongside actor like Olu Jacob Kanayo O Kanayo and Olu Jacobs. Below are soke of his movies.
Ofili Ugbo
The southeasten veteran nollywood actor is well known for his upright judgment and wisdom in dispute resolution. He has featured in numerous movies as king and he knows how to play his role very well. Below are some of his movies.
Harry B Uchegbu
Another actor who knows how to play kingship role is Harry B. The popular actor and stylist is considered one of the most dreaded kings in his movies. He lives acting alongside Destiny Etiko and Zubby Michael. Below is some of his movies.
Obi Okoli
South-eastern veteran actor is widely known for his strong and stick character in movies. He has featured in numerous movies as king. Obi is also a produced popular movies like "NO MORE WAR" and "the lost son" in 2005 and 2007 respectively. Obi Ukoli is well known for his ability to settle crises in movies. This is some of his movies.
There are Other actors that plays kingship roles in nollywood movies but these are the the best.
Summary
This list won't be complete if you don't choose your favorite nollywood actor that plays kingship role better.