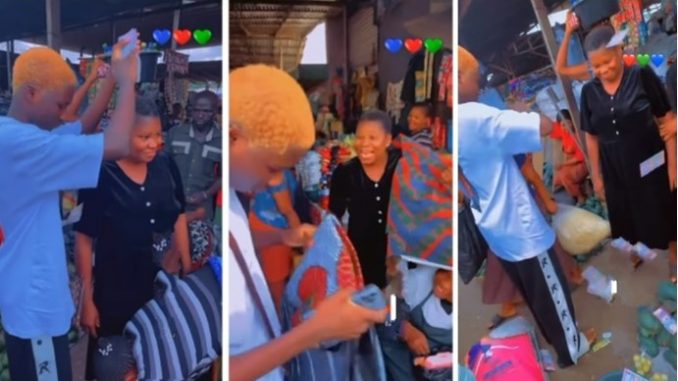 A young Nigerian man who recently became wealthy visited his mother's market store to give her a special treat.
He and his companions arrived at the market in style, and in front of her coworkers, he gave his mother pricey wrappings.
He kept pulling Hollandis out of a polythene nylon and dumping them on her, which astounded her.
Along with her, the woman's son brought bundles of cash, which he liberally sprayed on her as she made noises to communicate with him.
The money, according to social media users, could have been used more effectively if he had improved his mother's enterprise.
Watch the video below:
spunkysessentials; Why not expand the business why all this display🤔anyway no b me go tell person how to spend e money😂😂 God bless us all to bless our parents too amen and May they be alive whe we prosper 🙌
tony.frank_; Sometimes na we Dey use our hand invite village people.. why not gift her at home
commanderr_tom; How about we allow people celebrate their parents however they want.
You feel it's razz? Fine. You feel it's a show off? Fine. Just be happy for people and move on to another post
luchijessy; Nawa Oo children of now adays do the most, why throw the wrapper on her?🤦‍♀️
dinzzylb; To all those reading this..I pray you become successful enough to be able to tell your story with smiles❤️🙏
havilahdivas101; Mum asked questions oooo biko I can't shout ooo I no get energy for #Justice for anyone again