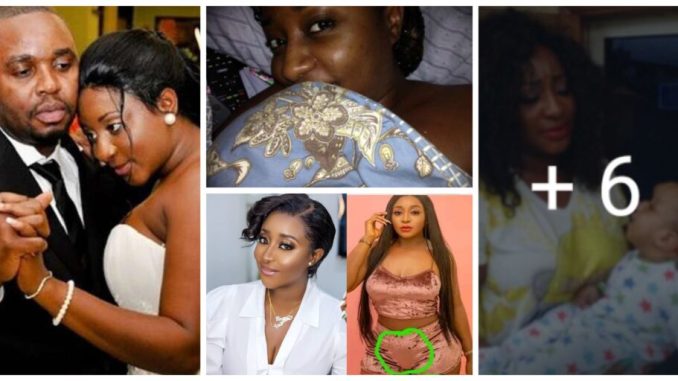 Multiple award-winning Nigerian screen diva, Ini Edo, is a beautiful and amazing role interpreter in acting. She's one of the most sought-after actresses Nigerians like to see in movies. In today's article we will be talking about Actress Ini Edo's Failed Marriage and everything you need to know about the Actress.
Ini Edo, real name, Iniobong Edo Ekim was born on April 23, 1982 in Calabar, Cross River state, Nigeria. She comes from a family of four and her journey to stardom was not as smooth as many might have imagined, there were times she struggled and times she didn't have to struggle – for her name started peaking until she eventually became the hotcake that she is today.
Ini Edo's major breakthrough can be traced back to year 2004 when she acted in a movie titled 'World Apart' and she has since starred in over 150 Nigerian movies.
As an actress there were trying times for her, considering the fact that she's also human, she fell into some controversies, which she eventually conquered, stood firm, used them to her advantage and became an irresistible conqueror.
Below are some controversies, allegations that trailed the stunning Nollywood thespian.
Ini Edo's Collapsed Wedding
In 2008, Ini Edo got married to Nigerian businessman Phillip Ehiagwina who resides and works in America. Surprisingly, the union lasted for a few years before the marriage crashed.
The actress was said to have snatched Phillip Ehiagwina from society lady, Ruth Okoro. Many believed Ini Edo's marriage wouldn't last for various reasons, however, in an interview in 2014, the beautiful television sweetheart confessed that the marriage ended because of the distance between them.
Ini Edo said that if she and her husband spent more time together, their marriage would have had a better chance to work out because they would have learnt more about each other better and work out their differences.
Ini Edo Accused of Cheating on Ex-Husband, Phillip Ehiagwina
In 2014, Ini Edo confirmed her divorce from Philip Ehiagqina, she also denied a prior allegation that she cheated on her ex-husband, but this took another turn when some family members of her husband of six years kicked against her and accused her of being a serial cheat.
A family source quoted by Legit Ng said; I can tell you that Ini Edo is a serial cheat who played the field behind her husband's back for the duration of their marriage. Is she going to deny she was dating one Island big boy whose girlfriend organised her friends to beat her up and injured her?
The source continued, saying; I can tell you that Ini Edo is not as innocent as she is trying to make people believe or think. We caught her on more than three occasions with three different men, and she always begged us to forgive her.
And another source added: We can even mention some of the men she had affairs with, including a South-South governor whose wife embarrassed her and ordered her security to send her out of the governor's guest house in the state capital. She should dare us and we will mention the name of the governor on the pages of newspapers.
Abortion Controversy
Ini Edo reportedly aborted a few weeks old pregnancy in 2008. Different media outlets reported that the pregnancy was for her secret lover, this caught many of the actress' fans by surprised, they argued if it was true or not, but she has since kept mum about the allegation.