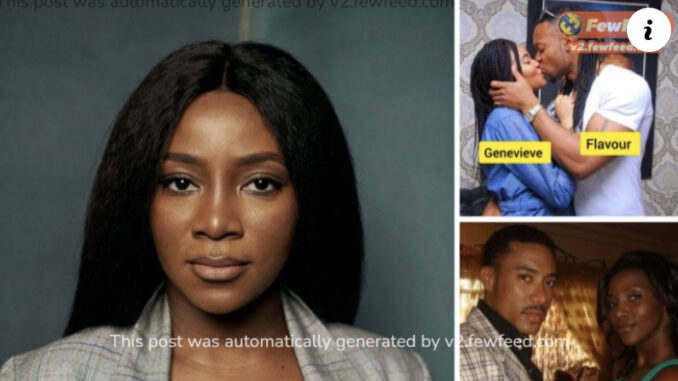 The gorgeous multi-award Nigerian actress and savvy businesswoman, Genevieve Nnaji has always had an eye for handsome, successful and powerful men and today we have a look at all the eye candy men that the successful and gorgeous mother of one has dated.
Below is a list of the successful and handsome men that Nollywood's queen has dated:
1. Ramsey Nouah
Genevieve also dated the handsome Nigerian actor, Ramsey Nouah. The two both denied the rumours of them being in a relationship but rumours of an old fling hasn't been far off. Genevieve has never addressed her relationship with Ramsey Nouah publicly and this is what Ramsey Nouah had to say about the rumours "I have never had such feeling for her. We were just colleagues who wanted you people to feel the way you are feeling now. It tells you that we played our roles very well".
2. D'banj
The gorgeous Nigerian actress dated the Nigerian musician, D'banj between the years of 2008 and went on to be featured in his 2008 music video titled "Fall In Love", which sparked many rumours about the two having an affair. Genevieve has never confirmed that she dated the musician but the world trust D'banj enough to trust his "government".
In 2013, D'banj said he wanted to marry Genevieve. D'banj said "I would love to have Genevieve as my wife. I have studied her and I released that anyone that has her as his woman has found himself a treasure".
3. Patt Attah
Genevieve also dated the Nigerian actor, Patt Attah but it is a tale of two stories. Genevieve said that she sees Patt like a big brother and they never dated and on the other hand, Patt admitted he dated Genevieve in an interview with Hearts Magazine back in the days and went on saying that he doesn't regret dating the Nollywood actress.
4. Kunle Coker
Nollywood's queen and multi-award actress, Genevieve Nnaji dated the Nigerian actor, Kunle Coker early in her career in the entertainment industry. The actress acknowledge that she dated the actor when she was asked of Kunle brought her into the entertainment industry. She responded to the question by saying "Yes, Kunle Coker was actually my boyfriend but he did not ring me into the industry".
5. Baby Daddy (Unknown)
The amazing actress is a mother of a teenage girl named Chimebuka Nnaji and it is believed that she has he child when she was in her teens. It is also understood that her daughter is a result of a relationship with a man she believed she would have married and not a one night affair however there is scarce information about the man's whereabouts