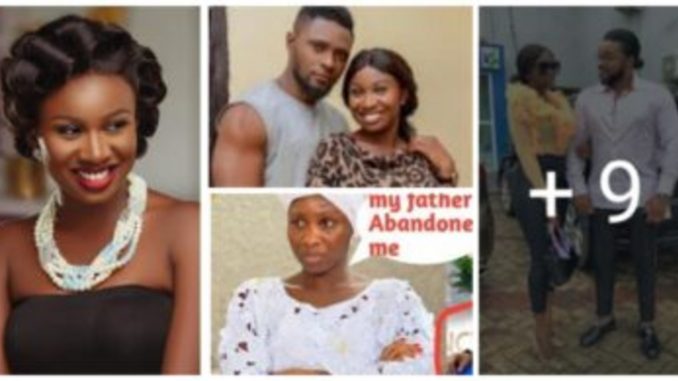 Sonia Uche is a fast-rising Nollywood actress. she is the first child and daughter of veteran movie producer, actress, and costumier, Uche Nancy, as well as the sister of fellow actress, Chinenye Nnebe.
Just like her sister, Sonia Uche gained ground in the Nollywood industry partly as a result of her mother's influence.
The young actress also works as an entrepreneur; she is the owner and manager of 'Sonia Hair Extensions', an online business for hair sales and revamps.
Sonia uche and chinenye Nnebe are both NOLLYWOOD superstar Actresses , they are both loved by their fans, but so many people don't know many facts about this promising actress.
Today we'll be revealing to you things you probably may not know about her.
1. Sonia Uche is the elder sister to Chinenye Nnebe who is also into acting. Chinenye Nnebe is also a popular Nollywood actress and their mother who is a producer and an actress, Uche Nancy introduced both of her daughters to the industry in the early 2000.
2. Uche Sonia is always shy acting a romantic part in front of her mother even if she's the one producing the movie. She always request her(Uche Nancy) to stay outside if they really want her to play that part.
3. Sonia Uche despite being a sister to Chinenye Nnebe is not bearing the surname "Nnebe" because her father is different from Chineye's father but same mother.
4. Sonia Uche currently as of the time writing this article is not dating anyone or she hasn't made it known to the public yet.
Sonia Uche's childhood and education
Sonia Uche was born on the 25th of May. Her exact year of birth, however, is not known. She is a native of Delta State and she grew up there.
She is the first of four girls, one of which is Chinenye Nnebe, a popular Nollywood actress. Sonia Uche is the daughter of renowned costumier and producer- Uche Nancy. She was raised along with her siblings by their mother.
Very little information is known about Sonia Uche's education. She, however, is a graduate of the University of Abuja, and she graduated in 2018.
Sonia Uche's acting career
Sonia Uche began acting at quite a young age. She revealed that acting wasn't automatic for her; she went through series of auditions, before eventually landing a role in "Complicated".
She hit major fame when she acted the lead character in the movie "My Boss's Daughter". She noted that this movie was particularly challenging as she had to completely embody the personality of the role she was given.
Sonia is also known for her role in "Frank's Wife".
Sonia Uche has over 80 movies to her credit and still counting. She has featured in several movie productions by her mother and starred with her sister in the same movies, some of which are "My Boss' Daughter" and "Vanity".
The young actress stated that her idol in the movie industry is Genevieve Nnaji. Also, she has featured alongside other stars, including Olu Jacobs, Patience Ozokwor, Peter Edochie, Mercy Johnson, and Ken Erics.
Sonia Uche's movies
My Pains (2019)
Pain of Love (2020)
Betrayed (2020)
The Chosen One (2020)
Test of Love (2020)
Not Just a Ring (2020)
Obsession (2021)
Vanity (2021)
Pride of the Land (2021)
Storms in Marriage (2021)
Akachi (2021)
Naked Lies (2021)
War Front (2021)
Sonia Uche's boyfriend and relationship
Sonia Uche is currently single and not engaged in any relationship. when questioned about it, she stated that she wishes to 'take her time' as her parent's divorce affected her mentally.
Sonia Uche's net worth
Based on current information about Sonia Uche's earnings and income, her net worth is estimated at $150,000 US dollars (around N61 million).