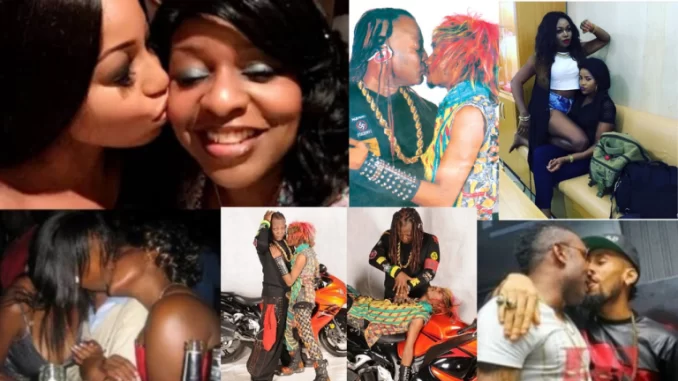 In this article I will be sharing with you 16 Nigerian celebrities who have been accused of been gay and lesbian. Before Nollywood actor Paul Obazele interview with Punch Newspaper in 2018 revealed that Nollywood is full of gays and lesbians, the Nigerian entertainment industry has been fueled by rumors and speculations about a few of our favorite stars.
Pick a copy of your favorite gossip magazine or visit your favorite gossip blog and it will be full of stories about who is dating who, which celebs are financially struggling and who has been blackballed from the industry. But the one rumor that really seems to get everybody's attention surrounds celebrities and their sexuality. Today, we will be taking a look at some of our Nigerian celebrities who have been rumored to be gays and lesbian.
1. Genevieve Nnaji
Rumors of Genevieve being a lesbian began in 2013 when she was alleged to be involved in an affair with Benin Republic actress, Ella Martins after a picture of them kissing surfaced online. Speaking about the picture, Ella Martins confessed that she kissed Genevieve Nnaji, but just a normal one with no string attached. According to her words; "We kissed, but it was nothing extraordinary, it was normal kiss between girls. I mean girls do kiss each other normally, even guys do too.
In 2019 there was another rumor that Genevieve Nnaji was having a lesbian affair with her friend and business partner Chinny Onwugbenu. It is said that the duo have been together for a while now, disguised as best friends and sisters, but have something more, which they share secretly.
What birthed such rumor was the fact that Chinny Onwugbenu and Genevieve Nnaji are always spotted hanging out together both in the country and outside the country. And since both ladies are unmarried and in their 40's many believe what they share is beyond friendship.
2. Uti Nwachukwu
The rumors of Uti being gay started when he was friends with Alex Ekubo. In fact, it was reported that both men were living together as a couple. Uti Nwachukwu admitted they were living together but gave reasons for it. Saying that it was too expensive to afford a good house then so they both combined their money to get a good house. Trust Nigerians not to believe his story as they spread rumors of Uti Nwachukwu being the wife and Alex being the husband in a gay relationship. Rumors also have it that Alex turned a new leaf which was the reason why both men are no longer close. Alex Ekubo is now in a relationship with a US Model known as Fancy Acholonu and he is planning on marrying her soon.
3. Linda Ikeji
Popular Nigerian Blogger Linda Ikeji has been accused of been a lesbian. All this started in 2016, when she refused to break the news of Chidinma Miss Anambra lesbian scandal that went viral. Bloggers and readers were quick to notice that almighty Linda Ikeji, the queen of breaking scandalous news did not even make a post about Miss Anambra lesbian scandal that went viral. Not to judge but the news of Chidinma was a hit, why didn't Linda Ikeji post about it? And also for the fact that she hardly mingle with men but only female folks.
4. Kcee
Rumors of Kcee being gay began in 2014 when a picture of him appearing to be kissing 'Alobam' crooner, Phyno went viral and Nigerians wasted no time in tagging them a gay couple. Before this incident, Kcee has already been tagged gay by many Nigerians because he loves wearing colorful clothes. As if this is not crazy enough, last year, Bobrisky vowed that Kcee must marry him. Bobrisky wrote on Instagram; "Emoney please tell your brother Kcee I won't stop playing his song until your family come and pay my bride price."
5. Iyabo Ojo
In early 2011, Nollywood actress Iyabo Ojo founded sexy pink ladies and stated that her primary aim was to bring women together irrespective of their age or social class to support each other and share ideas in business, health and improve family values. But since they were only women in the group, Nigerians rumored it to be a lesbian group because of the rumors, Iyabo Ojo changed the name from sexy pink ladies to Pinkies foundation.
Apart from lesbianism allegations surrounding the pinkies foundation, Nigerians also assumed she was using the foundation to pimp women to politicians. Fast forward to 2017, lesbianism rumors concerning Iyabo Ojo came up again after the Nollywood actress shocked her PA, Gbeminiyi with a brand new car for her birthday which raised many eyebrows.  Iyabo Ojo also threw a lavish birthday party for Gbeminiyi and since then many Nigerian believe the relationship she has with her PA is not out of the ordinary.
6. Benson Okonkwo
Benson Okonkwo would need more than a bucket of detergent to wash himself clean of all the allegations of homosexualism that have trailed him over the years. Though the actor says it hurts him, he also admitted that it has brought him fame. The rumours took seed right after he acted so convincingly as a homosexual in three different movies, 'One Dollar,' 'Pregnant Hawker,' and 'The Strippers. In an interview, he stated that though a lot of people believe he is gay, he has never been approached by any homosexual person. In his words, 'Contrary to what some persons think, I have never been sexually harassed by homosexuals. I am not a homosexual.'Perhaps if he was in a relationship with a female, the rumours would have lacked substance.
7. Uche Ogbodo
Nollywood actress, Uche Ogbodo, definitely knows things that will cause a problem for many yet she is not bothered because she needs to do her job well. The actress shared a controversial photo of her kissing fellow actress, Rosaline Meurer in November 2018 and she did not get a warm reception to it. While she was being tongue-lashed by a self-claimed fan, the actress stated it clearly that she was only acting her role and never a lesbian as perceived by few.
8. Denrele Edun
Eccentric Video Jockey (VJ), Denrele Edun has been called a lot of names ranging from homosexual, cross-dresser, and even transgender. Who can blame the name-callers though? Denrele actively and knowingly fuels those rumours and allegations about his person. He has often been sighted dressed like a woman to events, posting near-nude pictures with feminine poses online, and other such theatrics. The icing on the cake was when a picture surfaced of him kissing the 'Area Fada' Charly Boy. They both argued that it was the work of mischievous graphic-artists using photo-editing softwares, but the image had already been ingrained in the minds of many Nigerians, and to them, it only confirmed what they had long since suspected about the Channel O VJ.
9. Ruth Kadiri
Take a look at the picture above, is there anything wrong with it? I don't see anything wrong with the picture but some Nigerians labeled the Nollywood actress a lesbian after she posted the picture on Instagram. Even though she is married and recently put to birth, there are still some low-thinking Nigerians who believe she is a lesbian.
10. Alex Ekubo
Alex Ekubo has also been label a gay because of his close acquaintances with Uti Nwachukwu and IK Ogbonna. It is said that he had left Uti Nwachukwu and he is now rumoured to be dating IK Ogbonna currently. Alex Ekubo addressed his rumoured gay affair with Uti Nwachukwu by saying; "It's hilarious! Back in the days, when you have a friend who you go out with often, it was cool, people called him your best friend. Now, when they see two guys together, people begin to have weird thoughts. You see, in this business of entertainment, what you need is someone that believes in you to grow.
11. Rita Dominic
If you have been following Nollywood in the past, you will agree with me that no one plays a lesbian role better than Rita Dominic. Classically recall the scene with Rita Dominic and Bimbo Akintola and the 'Girls Cot Movie., hmmm, while we all admitted it was just good acting, speculations began… Adding fuel to the fact that she is in her 40's and still single. In 2015 it was speculated that she was involved with a presenter Michelle Dede especially after posting a photo of them kissing and getting fuzzy and hanging out. Rita Dominic even tried to push the rumors away by posing with an engagement ring and saying she was just friends with Dede but some Nigerians still believe she has a skeleton in her cupboard.
12. IK Ogbonna
He was called homosexual by people, but he denied it severely. IK Ogbonna was invited to the Pulse TV studio where he refuted the homosexuals associated with his name. When asked; "What has been the most ridiculous rumour you ever heard about yourself?" He said; "They say IK Ogbonna is a gay, Jesus Christ!!!, does this guy look gay to you? When I heard that one, I couldn't stop laughing, I am still laughing. First and foremost, I have a foundation that won't let me do certain things, I was reading a part of the bible with some people the other day – Leviticus 18 : 22, and God calls it an abomination. "I disgust it even the bible does. My love for women is even so much that you must be extremely feminine for me to love you."
13. Phyno
Popular Nigerian rapper and music producer Chibuzo Nelson Azubuike popularly known as the Phyno sank the rumors surrounding a supposed photo of him kissing a guy in a club some time ago, and we did not paraphrase what he said at all. Speaking to the Tribune, he said; "The only thing that was in my head when I saw the picture was where did this happen. I said back then that a gangstar like me could not have been involved in something like that. The fact is that, I am not a gangstar and I don't want people to see me in that light. I think I am too serious and cool for that kind of thing. People say I am gay. That's laughable because these same people reported some time ago that I impregnated a girl. So you can see that these things don't work together. My life is all about entertainment, as long as the people are happy about what they read, I am happy too".
14. Charly Boy
Charly Boy has also been rumored to be a gay. His strange lifestyle also contributed to his gay rumors. The images of the kiss with Denrele Edun fueled the rumor. He was quoted saying he is a gay and the leader of the Illuminati in Nigeria. But later on, he denied it and threatened to sue the newspaper that carried the news.
15. James Brown
James Brown has been rumored to be a gay. He was even arrested alongside 46 others for being allegedly gay and spent a month at the Ikoyi Correctional Facility in Lagos. James Brown is a cross dresser and many Nigerians have labeled him to be a gay. He has refuted every claim attached to him as being a gay and even stated categorically that he has a girlfriend who satisfied him on bed in several occasion.
16. Bobrisky
Bobrisky have been rumored to be a gay. The internet personality who has severally denied being gay although agreed he is in a relationship with an influential male politician. Also In a famous interview with Potpourri, Bobrisky openly denied being gay, affirming his earlier claims and stated that he is just a businessman and a cross dresser. Although, despite all his claim of not been a gay, everyone still believes Bobrisky is gay.