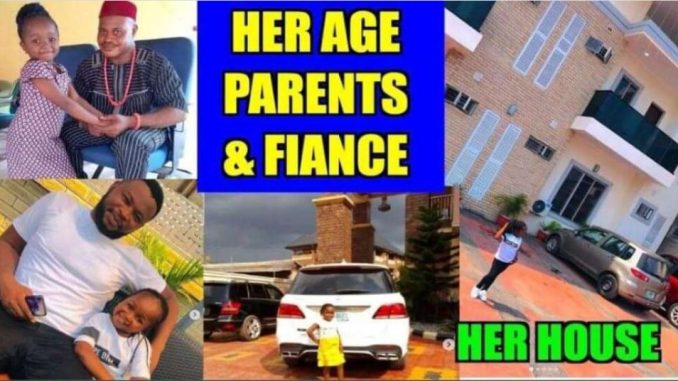 Nollywood actress, is from Ihiala village in Anambra State and belongs to the Igbo tribe.
1. Obio Oluebube is a Nigerian born diminutive pint-sized fast rising Nollywood actress who has is set to take the Nigerian movie industry by storm.
Obio Oluebebe Profile
Name:
Full Name: Obio Oluebebe Cynthia
Date of Birth: 2004
Age: 18 Years
State of Origin: Anambra State
Nationality: Nigeria
Parents: Mr and Mrs Obio
Tribe: Igbo
Occupation Actress
Net Worth: $50,000
2. Oluebube Obio aka Obi Oluebube is from Ihiala in Anambra State, Nigeria and belongs to the Igbo tribe. She is a small-sized Nigerian Nollywood actress who is fast rising in the Nigerian movie industry. She also has a brother by name Snowboy who is into music industry.
Oluebube Obi has acted alongside Nollywood star actors and actresses such as Chiwetalu Agu, Livinus Nnochiri, Prince Iyle Olisa, Nche Security, Dan David Okon, among others.
3. Obio Oluebebe is 18 year old as at time of writing this post(11th August 2022)
4. Obio Oluebebe Educational Background
She went to Anambra State's primary and secondary schools. On the other hand, Obio Oluebebe is yet to be accepted into a Nigerian university.
Oluebube Obio was born into the family of Obio to her parents, Mr and Mrs Obio of Ihiala, Anambra State Nigeria.
Obio Oluebube father is Mr Obio of Anambra State. Obio Oluebube has not shared pictures of her real dad.
Oluebube Obio has also not shared photos of her biological mother, Mrs Obio.
5. Obio Oluebebe is sometimes referred to as the female counterpart of Aki and Paw-Paw due to her height. Like Aki and Paw-Paw, Obio Oluebebe frequently appears in comedies.
6. In her brief career in the Nigerian film business, Obio Oluebube has acted alongside many top Nollywood actors and actresses such as Mercy Johnson, Nkechi Nweje, Onny Michael, Chinenye Nnebe, Sonia Uche, Livinus Nnochiri, Prince Iyle Olisa, Nche Security, Dan David Okon, Augustine Iloh, Jnr Pope, Thankgod Anozie, Harry B Anyanwu, Sam Obiago, Chiwetalu Agu, Ngozi Ezeonu, amongst others.
Oluebube's Nollywood career has progressed tremendously since then, and she is now a great sketch writer.
7. She has featured in several comedic sketches with well-known Nollywood actors such as Mc Collins and others, and her sketch "Aunty Put Me Down" was a smash.
8. Obio Oluebebe Weight, Height
Oluebube Obio is a diminutive, small-sized Nollywood actress. But she is older than what her stature and body size says.
Oluebube Obio acted as 'Ezenwayi' in "Heart Of A Tiger" with Prince Iyke Olisa and others. Oluebube Obi movies include, Heart Of A Tiger, House Pleasure among others.
Is Oluebube Obio married?
9. Oluebube Obio is not yet married and doesn't flaunt her boyfriend, fiance or relationship on her instagram page.
Obio Oluebebe Instagram
Obio Oluebebe Instagram Page Account Profile Handle is @obio_oluebube
10. Obio Oluebebe Net Worth
Obio Oluebube net worth is about $50,000 US Dollars as at 2022.
That's All
Please drop any necessary information you feel is supposed to be included about the above talked about actress below in the comment section with a verified source. Thank you.